North-East US Coast braces for "dangerous" snow blizzard


Friday, 8 February 2013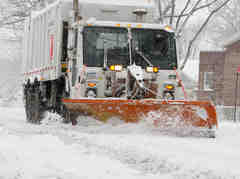 by Alice Monroe



More than 2,600 U.S. flights were grounded and schools closed as a "potentially historic" snow blizzard was set to hit New York City to Boston and beyond on Friday

NEW YORK -- A hazardous snow blizzard was set to hit some of the most densely populated areas of the U.S. on Friday as it barreled its way from the Great Lakes towards New York City and Boston on Friday.

Forecasters were expecting the winter storm to dump two feet of snow in the Boston Metropolitan area, with New York City expected to see around 10-14 inches of snow.

"This one doesn't come along every day. This is going to be a dangerous winter storm," Alan Dunham, meteorologist for the National Weather Service, told The Associated Press. "Wherever you need to get to, get there by Friday afternoon and don't plan on leaving."

The U.S. National Weather Service said the combination of two weather systems from the polar and subtropical jet streams were expected to create a "potentially historic" storm, with weather warnings extending from New Jersey to Maine.

The storm was expected to hit the New York metro area around 6 a.m. ET and begin laying down a snow blanket through Saturday.

In New York, where residents were still recovering from the aftermath of October's Hurricane Sandy, citizens were advised to prepare for the worst. "Due to potential power outages and transportation difficulties, New Yorkers are advised to stock up on potential supplies, including medicine," said the city's mayor, Michael Bloomberg.
The aftermath of Saturday's 'Blizzard 2013' East Coast storm
Source: KOIN CBS 6

KOIN Local 6 coverage of a storm that brought as many as 38 inches of snow to some East Coast areas.
Other recent news in US
Twitter
•More original news reports from One News Page