A Minute With Nigel: Breitbart London's 10 Quick Questions With UKIP Leader Nigel Farage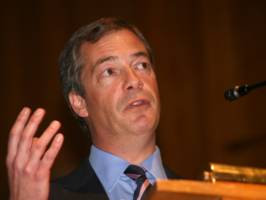 UKIP leader Nigel Farage kindly took a moment out of his busy schedule to speak to Breitbart London (BL) as he launches the UKIP campaign today in Sheffield in...
Breitbart 2 days ago - US

Women of Influence 2014: Meet Ecotrust's Astrid Scholz
It's nearly time for our popular Women of Influence awards. The event takes place Thursday, and we're getting warmed up for the program by running a series of...
bizjournals 4 days ago - Business

Tracking down cause of eye mobility disorder
Imagine you cannot move your eyes up, and you cannot lift your upper eyelid. You walk through life with your head tilted upward so that your eyes look straight...
Science Daily 1 week ago - Science