5 Arrests Made at Oceanside DUI Checkpoint


Saturday, 16 March 2013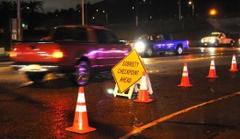 Patch Camp Pendleton, CA --

Seven people were arrested for suspicion of drunken driving overnight at three DUI checkpoints in San Diego County.

In Oceanside, five people were arrested between 9:30 p.m. Friday and 2:30 a.m. Saturday at a checkpoint in the 2100 block of South Coast Highway. Two
other drivers at the Oceanside...
You Might Like
Other recent news in US
Twitter
Comments
comments powered by