'60 years of blissful incompatibility'
WHEN a teenage boy from London spotted a pretty dark-haired girl going into the Methodist Church opposite his home, he wasted no time in joining the same youth...
Kent and Sussex Courier 5 days ago - UK

Are Angelina Jolie and Brad Pitt Getting Married This Year?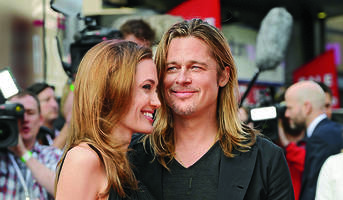 Looking more like teenagers in love than a couple who has been together eight years, *Brad Pitt* and *Angelina Jolie* held hands, smiled and greeted fans as they...
OK! Magazine 6 days ago - Celebrities

After 53 Years Together, Gay Couple Holds Texas Church Wedding
"The marriage of George and Jack is a sign of God's love and their love for each other and our love for one another," Rev. Bill McElvaney said.
msnbc.com 1 week ago - US