School Committee to Hear 'District Report' on Test Scores


Comment

Thursday, 4 April 2013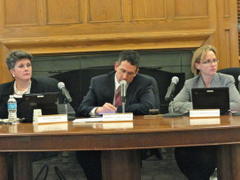 Patch Barrington, RI --

The Barrington School Committee's meeting tonight should be pretty special. It usually is.

The meeting starts at 7:30 pm in the School Committee Meeting Room in Town Hall.

Tonight's meeting is "District Report Night." That's the annual look at how Barrington students have fared in the New England...
You Might Like
Other recent news in US
Twitter
Comments
comments powered by