Gwyneth Paltrow, 40, Wears Sexy Lingerie in 'Thanks For Sharing' (Video)


Thursday, 27 June 2013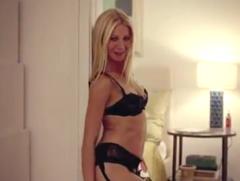 Gwyneth Paltrow, 40, appears in black sexy lingerie for a new film, "Thanks For Sharing," which co-stars Mark Ruffalo and rock singer Pink.

Paltrow plays a woman falling in love with Ruffalo who has a sex addiction.

However, before Ruffalo confesses that he has "been in in recovery for five years," Paltrow dances in...
You Might Like
Other recent news in US
Twitter
Comments
comments powered by