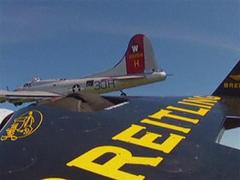 by Stephanie Boyd

Swiss adventurer Yves "Jetman" Rossy completed his first public flight wearing a custom-built jet suit on Monday
OSHKOSH, WI -- Yves Rossy, known as "Jetman", made his first US flight to mark the opening of the Experimental Aircraft Association's AirVenture show in Oshkosh, Wisconsin, on Monday.
The Swiss adventurer flew in a custom-built jet suit consisting of a carbon-Kevlar jetwing with four engines. For good measure, to impress reporters, he performed mid-air maneuvers around a B17 bomber.

Jetman Rossy took flight alongside a B17 bomber to demonstrate his custom-built jet suit
"Yves Rossy alone in the air ego, completely ego trip. OK, it's nice. It's much better to share, to inspire, to give it back. I am a privileged guy that I can fly like that," Rossy said of his jet pack.

"It's just pleasure, fun, it's total freedom, you have no, almost no limits in the third dimension you know, just up, okay I go," he added.
Rossy's jet suit is capable of propelling him through the sky at more than 190 mph up to an altitude of 12,000 feet.