Kylie Jenner shows off her ridiculously swanky new car and sends Twitter into meltdown
Oh y'know those Kardashians - they're so shy and unassuming, we barely ever hear about them anymore. We love the way they really don't like to brag about...
Sugarscape 2 hours ago - Entertainment

Kris Jenner Posts Sexy Bikini Photo With Kim, Khloe, and Kourtney!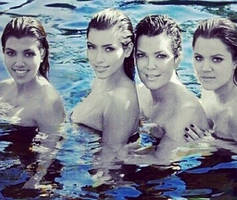 Wow, talk about a sexy summer shoot! Kris Jenner posted a photo of her and her girls all posing in a pool in celebration of the gorgeous weather we're having...
Rumorfix 1 week ago - Celebrities