Wayne Mills Dead After Getting Shot in Nasville; Wayne Mills Band Grieves

Monday, 25 November 2013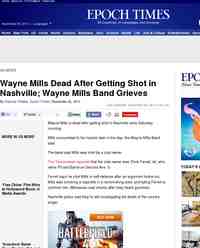 Wayne Mills is dead after getting shot in Nashville early Saturday morning.

Mills succumbed to his injuries later in the day, the Wayne Mills Band said.

The band said Mills was shot by a club owner.

The Tennessean reported that …

The post Wayne Mills Dead After Getting Shot in Nasville; Wayne Mills Band Grieves appeared first on The Epoch Times.
You Might Like
Other recent news in US
Twitter
Comments