How Much Did Vogue Photoshop Lena Dunham?


Wednesday, 15 January 2014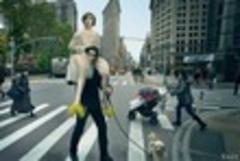 Every woman in a glossy magazine has been Photoshopped; that is, unfortunately, the mass media phantasmagoria we live in. So when it was announced that Lena Dunham would get the cover treatment in Vogue, the unfortunate first question to pop up was: how much will Wintour's team Photoshop a woman who doesn't meet their emaciated fat-free cookie-cutter standards? The photos from the spread have now been released, and while they didn't bobblehead her, some believe they did overuse the retouching tool (Jezebel also points out that they took an arm out of one shot). [ more › ]
 
 
 
 
Source: Newsy - on January 18, 2014
Vogue's retouched photos of "Girls" star Lena Dunham drew criticism from feminist blog Jezebel, which offered $10,000 for the unretouched photos.
You Might Like
Other recent news in US
Twitter
Comments
Load Comments