Tina Louise, Dawn Wells Speak on Russell Johnson Death

Friday, 17 January 2014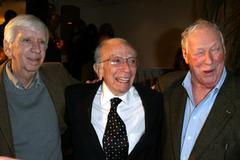 Tina Louise, who played Ginger on "Gilligan's Island, said Russell Johnson, who played the show's "Professor," will be missed. Dawn Wells also spoke of his death.

Johnson died at 89 on Thursday, according to reports.

"I was very saddened to …

The post Tina Louise, Dawn Wells Speak on Russell Johnson Death appeared first on The Epoch Times.
You Might Like
Other recent news in US
Twitter
Comments