Ryan Loskam Found Dead: Former Aide to Sen. Lamar Alexander Was Facing Child Porn Charges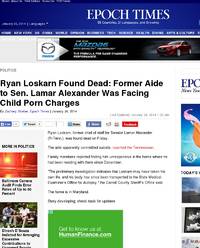 Comment

Friday, 24 January 2014

Ryan Loskam, former chief of staff for Senator Lamar Alexander (R-Tenn.), was found dead on Friday.

The aide apparently committed suicide, reported the Tennessean.

Family members reported finding him unresponsive in the home where he had been residing with …

The post Ryan Loskam Found Dead: Former Aide to Sen. Lamar Alexander Was Facing Child Porn Charges appeared first on The Epoch Times.
You Might Like
Other recent news in US
Twitter
Comments
comments powered by