Man who wore Rob Ford mask to campaign office now charged with assault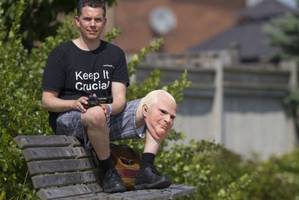 Charge was brought privately by the campaign volunteer, whom police charged with assaulting the masked man.
Toronto Star 7 hours ago - Americas
Also reported by •NY Daily News •Tiverton Mid Devon Gazette •Leicestershire Police •WTHR •TwinCities.com

Man charged with four offences after alleged attempted sex...
A man has appeared before magistrates this morning charged with four offences, after an alleged attempted sexual assault in Cheltenham.Mark Raymond Willis, 39,...
Gloucestershire Echo 1 day ago - UK
Also reported by •Gloucester Citizen •West Yorkshire Police •The Age •Tiverton Mid Devon Gazette •North Devon Journal •Boston.com •Leicestershire Police •FOXNews.com

Man charged in West Phila. kidnapping, murder
A suspect arrested after an armed robbery and police chase earlier this month has been charged with kidnapping and aggravated assault - and is also facing murder...
philly.com 3 days ago - US
Also reported by •West Yorkshire Police •Sussex Police