State Sen. Ron Calderon indicted on fed corruption charges


Friday, 21 February 2014

California Sen. Ron Calderon and his brother, former state Assemblyman Tom Calderon, were indicted on federal public corruption charges Friday stemming from a wide-ranging investigation that ensnared the senator's children and a hospital executive.The U.S. Attorney's Office announced the charges at a press conference in Los Angeles and said the lengthy investigation into the brothers' activities may lead to additional arrests. According to the indictment, Ron Calderon "would perform official acts favorable to the individuals paying him bribes and kickbacks, including introducing and supporting legislation on their behalf, and seeking the support of other public officials and their staff for such legislation." According to investigators, Ron Calderon had Drobot hire his son for 15 days of work each summer for three years at $10,000 per year at one or more of Drobot's companies - to help his son raise tuition money. According to the indictment, the agents hired Ron Calderon's daughter for a job - she never worked - and paid her $39,000, in exchange for her father's political support on the tax credit.
Source: WIVT-Syndi - on February 26, 2014
Local Neurosurgeon Indicted on Tax Fraud Charges
Recent related news

Bay Area and Los Angeles news groups sue California Senate to get Leeland Yee, other's calendars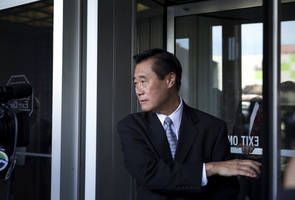 Following the Senate's refusal to release portions of the legislative calendars of state Sen. Leland Yee, D-San Francisco, and state Sen. Ron Calderon,...
San Jose Mercury News 10 hours ago - US
Also reported by •Raw Story
You Might Like
Other recent news in US
Twitter
Comments
Load Comments