NSFW: US Airways tweets vagina photo in response to complaint

Monday, 14 April 2014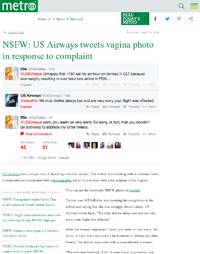 [caption id="attachment_404444" align="alignnone" width="586"]
US Airways was communicating with this woman before tweeting a highly pornographic image.
Credit: Twitter[/caption] US Airways has a unique way of handling customer service. The airline was tweeting with a customer when it responded to a complaint with a pornographic photo of a woman with a toy airplane in her vagina.[related tag="nsfw" limit=5] You can see the extremely NSFW photo on Jezebel. Twitter user @ElleRafter was tweeting her complaints at the airline and saying that she was unhappy about a delay. US Airways wrote back, "We truly dislike delays too and are very sorry your flight was affected." After the woman responded, "yeah, you seem so very sorry. So sorry, in fact, that you couldn't be bothered to address my other tweets," the airline responded with a since-deleted comment: "We welcome feedback, Elle. If your travel is complete, you can detail it here for review and follow-up," wrote the airline, along with the photo in question. The airline has since apologized and wrote that it is investigating the situation.



We apologize for an inappropriate image recently shared as a link in one of our responses. We've removed the tweet and are investigating.

— US Airways (@USAirways) April 14, 2014

Twitter users joked about the photo, with one person saying the woman was giving birth to a baby airplane and another writing that the position still looked more comfortable than a US Airways seat.

The post NSFW: US Airways tweets vagina photo in response to complaint appeared first on Metro.us.
Source: Buzz60 - on April 15, 2014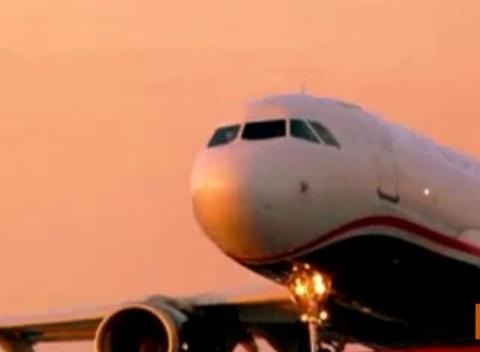 US Airways is apologizing and investigating after a tweet sent from the airline's account included a graphic photo that is certainly not rated PG. Twitter exploded with jokes and Patrick Jones (@Patrick_E_Jones) rounds up some of the best.
You Might Like
Other recent news in
US
Twitter
Comments