Some Megachurches Are Giving Out iPads, TVs to Easter Attendees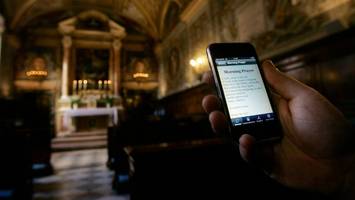 Did you go to church this morning? If so, did you get a shiny new toy for your efforts? Congregants at Christian Life Church in Lexington, Oklahoma might. Anyone...
Gawker 21 hours ago - US

Toormore drifts in 2,000 Guineas betting despite winning Craven Stakes
Richard Hannon mystified as Newmarket victor goes out to 8-1 'He's not going to win by six lengths, even if he could' Anyone trying to guess the outcome of...
guardian.co.uk 4 days ago - Sports

MTV Movie Awards 2014: Josh Hutcherson Dedicates Win to Sir Philip Seymour Hoffman
The MTV Movie Awards 2014, held last night in Los Angeles, included a tribute for "Fast & Furious" actor Paul Walker, who died last November, but did not...
Softpedia 1 week ago - Technology