Meteorite hits central Russia, at least 400 injured


Friday, 15 February 2013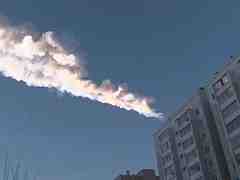 by Mike Anderson



At least 400 people were injured when a number of meteorites crashed into central Russia on Friday morning

CHELYABINSK, Russia -- A large meteor hit the Earth's atmosphere on Friday morning, breaking up into several meteorites which crashed in the Urals of central Russia at 9.20am local time (3.20am GMT).

The meteorites left behind a streak of smoke across the sky, with several bright blasts and loud shockwave bangs which shattered glass windows, collapsed roofs and caused more than 400 people to suffer injuries, primarily from broken glass.

Several brightly burning rocks could be seen for hundreds of miles as they crashed into a lake near Chebarkul near the city of Chelyabinsk, around 930 miles east of Moscow.

"We saw a big burst of light, then went outside to see what it was and we heard a really loud thundering sound," Chelyabinsk resident Sergey Hametov told AP reporters.


A meteor exploded above central Russia on Friday, creating an amazing sound shockwave

The Emergency Ministry reported that 20,000 rescue workers are operating in the region. Three aircraft were deployed to survey the area and locate other possible impact locations.

Scientists were assessing whether the meteor impact may be related to the arrival of Asteroid 2012 DA14, which was predicted to pass Earth in a near-miss encounter later on Friday.

The size of an Olympic swimming pool, the asteroid was set to travel past Earth at a distance of just 17,200 miles - the closest ever predicted encounter for an object of that size. Its 17,450 mph flyby was predicted to be closest to our planet at 19.25pm GMT and the asteroid's path determined to be well within the orbit of geostationary satellites.

In case the Russian meteor impact is related to the imminent near-miss flyby of Asteroid 2012 DA14, further meteorites may be expected to hit Earth, commentators speculated.
Source: WNYT NBC Albany, NY

Meteorite strike in Russia causes hundreds of people to be injured. Most of the injuries are from broken glass.
You Might Like
Other recent news in World
Twitter
Comments
•More original news reports from One News Page