Magnitude 5.7 earthquake hits S. Philippines
An earthquake measuring 5.7 on the Richter scale hit Mati, capital of Davao Oriental in southern Philippinesat 7:58 a.m. local time Wednesday, the Philippine...
CNTV 6 days ago - World

Orange earthquake alert (Magnitude 5.5M, Depth:61.37km) in Philippines 03/12/2013 23:58 UTC, 3382524 people within 100km.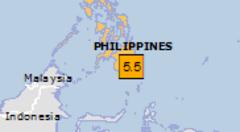 On 12/3/2013 11:58:53 PM, an earthquake occurred in Philippines potentially affecting 3382524 people within 100km. The earthquake had Magnitude 5.5M,...
GDACS 6 days ago - World