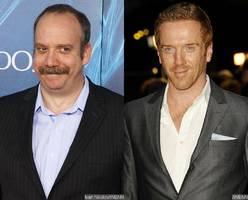 Set in a high-finance world, the show sees a clash between a U.S. attorney and a hedge-fund king.
AceShowbiz 14 hours ago
Also reported by •HitFix •The Wrap

The Emmy winner is joining Oscar nominee Paul Giamatti in the cable network's new drama pilot Billions, where the two actors will play dueling leads. Lewis' involvement must make Showtime happy, as the..
SeattlePI.com 15 hours ago
Also reported by •Digital Spy
Videos for Damian Lewis
Former Homeland star Damian Lewis admits it was a "dreamlike experience" filming in the remote Scottish landscape for his new film The Silent Storm.


Source: Press Association UK - 1 week ago



Once upon a time, Jamie Dornan, Damian Lewis and Bill Murray played golf. Could you think of a more random but cool group of guys? Earlier today, the three actors all participated in the 2014 Alfred..


Source: Wochit - 3 weeks ago



TIME 19 hours ago
Also reported by •Digital Spy •USATODAY.com

Entertainment Weekly 1 day ago

Spoiler alert: The baby who plays Carrie and Brody's daughter she looks FREAKILY like Damian Lewis
Now 5 days ago
Search this site and the web: