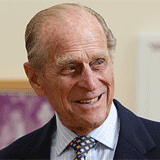 Queen and Duke of Edinburgh open new Queensferry Crossing
The Queen is today accompanied by the Duke of Edinburgh, with the royal couple said to be 'delighted' by the news that the Duke and Duchess of Cambridge are expecting a third child.
MailOnline
The Queen attends church service at Crathie Kirk
The Queen was joined by the Duke of Edinburgh, Prince Charles and the Princess Royal as they made their way to Crathie Kirk, the chapel within spitting distance of their summer home in Balmoral.
MailOnline
Prince William and his wife, the Duchess of Cambridge, are expecting their third child, Kensington Palace said Monday. Kensington Palace made the pregnancy announcement as they said that the former..


Source: Wochit Entertainment -



Queen Elizabeth II and Prince Philip, the Duke of Edinburgh, walking along red carpet towards Parliament building, dignitaries in robes follow her. She has come to open the Parliament in Trinidad and..


Source: British Pathe -



William and Harry, who were ages 15 and 12 at the time, revealed that their family came to a consensus that they should walk in the funeral procession through London. William shared, "It wasn't an..


Source: Wochit Entertainment -



The Duke of Edinburgh and Queen Elizabeth II unveiled the new zoo 'Land of Lions' while grandson Prince William attended the Irish Guards St. Patrick's Day Parade.


Source: Celebrity Wire -



The Insider caught up with Foye and her co-star, Matt Smith, to chat about season two of the Netflix hit.


Source: The Insider -


Hurricane Harvey: Queen 'deeply saddened' by disaster
The Queen and Duke of Edinburgh send their condolences in a message to US President Donald Trump.
BBC News
Queen will not stand aside to let Charles take her duties
Source close to the royals have dismissed rumours that the Queen is planning to hand over her official duties to Prince Charles, following the retirement of the Duke of Edinburgh.
MailOnline
Search this site and the web: