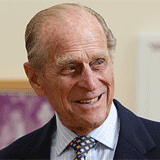 Queen Elizabeth & Prince Philip Celebrate 70th Wedding Anniversary with New Portait!
Queen Elizabeth and her husband Prince Philip pose for a portrait in the White Drawing Room at Windsor Castle to celebrate their 70th wedding anniversary. The portrait, taken in November, marks the..
Just Jared
Also reported by •New Zealand Herald
Queen's 70th wedding anniversary marked with stamps
A new set of stamps is being issued to commemorate the 70th wedding anniversary of the Queen and Duke of Edinburgh, including images of their engagement.
MailOnline
Jennie Bond reflects on the Queen and Duke of Edinburgh's 70-year marriage on their platinum wedding anniversary. The former BBC royal correspondent says tolerance is key to the longest royal marriage.


Source: PA - Press Association STUDIO -



As Queen Elizabeth (Claire Foy) continues her reign over Britain, she finds the monarchy under intense scrutiny as it struggles to keep up with the times. But keeping up with a changing society isn't..


Source: Hello Giggles -



Queen Elizabeth may have her pick when it comes to royal jewelry, but according to Elle, there's one piece that she guards with her heart. It's her round, three carat engagement ring, given to her by..


Source: Wochit News -



Wedding of Princess Elizabeth (Queen Elizabeth II) and Prince Philip (Duke of Edinburgh), London.


Source: British Pathe -



Business Insider reports that Suits actress Meghan Markle and boyfriend, Prince Harry are cousins. Although Markle did not grow up as a royal, according to genealogical information gathered by The Mail..


Source: Wochit Entertainment -


'Royal Platinum Love Song' celebrates Queen's Platinum wedding anniversary
Composer Olga Thomas-Bosovskaya release her new composition Royal Platinum Love Song to celebrate Her Majesty The Queen and His Royal Highness The Duke of Edinburgh's Platinum wedding anniversary in..
GScene
Netflix's trailer for season 2 of 'The Crown' teases trouble in the monarchy and in Queen Elizabeth's marriage
· *Netflix released the full trailer for season two of "The Crown," out December 8.* · *It teases trouble in the monarchy and in Queen Elizabeth II's marriage to Philip, Duke of Edinburgh.* · *In..
Business Insider
Prince Harry kicks off his first official visit to Denmark
Prince Harry started the trip today by visiting the Palace of Amalienborg for an audience with Queen Margrethe of Denmark, who he is related to through his grandfather the Duke of Edinburgh.
MailOnline India
Also reported by •MailOnline
Search this site and the web: