Osborne's populist Budget helps the Conservatives claw back voters from UKIP. David Cameron with Ed Miliband before the state opening of Parliament in 2013. Photograph: Getty Images. With its..
New Statesman on March 22, 2014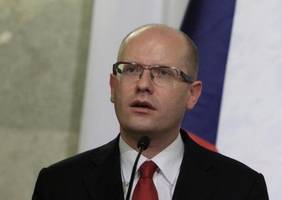 PRAGUE (Reuters) - The Czech Republic's new center-left government signaled a turn away from the euro-skepticism of the previous government on Wednesday, when it opened debate on joining the EU's..
Business Insider on February 19, 2014

The Governor of the Bank of England made clear that a successful currency union requires fiscal union, the very thing the Scottish First Minister is in politics to end with the rest of the..
New Statesman on January 29, 2014
Search this site and the web: