Whether you're a fan or not, you had better get used to seeing a Lamborghini-badged SUV in your neck of the woods as a production version of 2012's Urus SUV concept has been given the green..
Business Insider 5 days ago

Audi is looking to expand its SUV range, with a model larger than the Q7 Audi is looking to dramatically expand its SUV line-up, and a large new luxury model above the Audi Q7 could crown the..
Autocar on April 20, 2013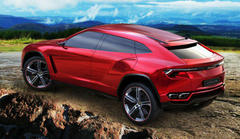 The Lamborghini Urus SUV crossover will feature a 600 horsepower Plug-In Hybrid Engine. A Lamborghini SUV has been rumored for years, but it appears that a production model will be ready within the..
The Inquisitr on March 5, 2013

The stories behind the big stories of the year For proof that the car industry moves fast, cast your eyes over these numbers. Over 51 issues and 3825 editorial pages, we've written about great..
Autocar on December 30, 2012
Only few matches found.
Search this site and the web: