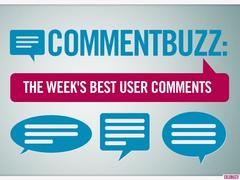 It may have been the "worst week ever" for Justin Bieber, but it was a great week for discussion on Celebuzz. While you had a lot to say about the never-ending circus that was "Biebergate" this..
Celebuzz on March 8, 2013

Awards show to air live on April 14
nola.com on March 6, 2013
Also reported by •Digital Journal •OK! •Extra •NY Daily News •Indian Express •NME •ContactMusic

MTV News on March 6, 2013

US Weekly on March 6, 2013

Movie News - Four films scored big as the nominations at the 2013 MTV Movie Awards have been announced. The movie Ted, Django Unchained, The Dark Knight Rises and Silver Linings Playbook all have..
The National Ledger on March 6, 2013
Search this site and the web: