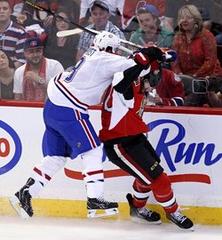 Brandon Prust is sorry for calling Paul MacLean names.
canoe.ca 1 week ago

The Ottawa Senators eliminated the Montreal Canadiens from the Stanley Cup Playoffs with a 6-1 win in game 5. The injury plagued Canadiens were out of steam. They were without goalie Carey Price,..
Breitbart 1 week ago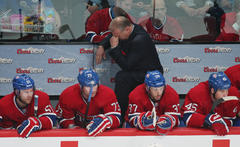 MONTREAL—The Ottawa Senators are moving on to the second round of http://www.nhl.com/ice/series.htm?season=20122013&series=b. Craig Anderson made 33 saves and Cory Conacher scored twice on a shaky..
Toronto Star 1 week ago

The eighth-seeded New York Islanders have surprised the Pittsburgh Penguins; goodbye Vancouver Canucks; Ottawa Senators and Montreal Canadiens develop serious rivalry *Are the Islanders this year's..
guardian.co.uk 2 weeks ago

Two Montreal Canadiens fans are trying to put a positive spin on some of the nastiness that has surfaced during the Habs' playoff series with the Ottawa Senators. They're using Brandon Prust's..
CTV 2 weeks ago
Also reported by •NHL
Only few matches found.
Search this site and the web: