A Republican Texas Judge has ordered a lesbian couple to live apart or give up custody of their children. According to Think Progress, Judge John Roach of McKinney, Texas has given Page Price 30 days..
Raw Story 6 hours ago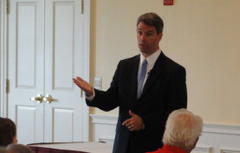 Patch Annandale, VA -- Attorney General Ken Cuccinelli is expected to formally accept the Republican nomination for Governor on Saturday morning, delivering a speech at the Virginia GOP's..
Patch 12 hours ago
Videos for Republican
May 17 (Bloomberg) -- U.S. Representative Peter Roskam, an Illinois Republican, talks about today's House Ways and Means Committee hearing on the Internal Revenue Service's scrutiny..


Source: Bloomberg - 1 day ago



White House releases additional documents related to Benghazi response


Source: wochit news - 3 days ago



Republican Mark Sanford, the former South Carolina governor whose extramarital affair sank his political career in 2009, is returning to Congress to reclaim his old House seat as he forges a comeback...


Source: Associated Press - 3 days ago


Only few matches found.
Search this site and the web: