Like millions of other young women in Bangladesh, Sumi Abedin forged her place in the modern economy at a sewing machine inside an urban garment factory. The ready-made garment industry now accounts..
Huffington Post 2 hours ago

North Korea has proposed to hold a joint event with South Korea to commemorate the 13th anniversary of a landmark inter-Korean declaration.
IBTimes 3 hours ago
Videos for "South Korea"
South Korea says its first home-produced combat helicopter is ready for battle. Rough cut - no reporter narration.


Source: Reuters News - 1 day ago



A small but angry group of South Korean activists gathered outside the Japanese embassy in Seoul on Tuesday to express their anger over Japan's wartime atrocities.


Source: Associated Press - 2 days ago



During the weekend, North Korea launched four test missiles off its east coast. Now the South is pushing harder for dialogue.


Source: Newsy.com - 4 days ago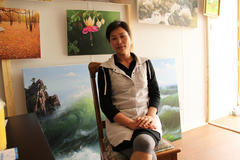 Yung Kum Kim's first child died of starvation in North Korea. She was a little girl named Sulim. She was 2 years old. "After the death of (longtime dictator) Kim Il Sung, they stopped..
Toronto Star 3 hours ago
Only few matches found.
Search this site and the web: