Patch Acworth, GA -- Wherever this church goes, controversy and attention seem to follow. The Westboro Baptist Church has long been known for picketing the funerals of American soldiers as..
Patch 16 hours ago

Karr linebacker Jaevon Walton discusses his time playing for Tuscaloosa Academy (Ala.) and how that has changed his recruitment process.
nola.com 3 days ago
Videos for Tuscaloosa
The Druid City Bike Club in Tuscaloosa held an art contest to encourage motorists to obey the three-foot passing law.


Source: WIAT CBS 42 - 1 hour ago



Volunteers will be taking donations of small hygiene items such as soap, shampoo, toothpaste and toothbrushes from 8 a.m. to 2 p.m.


Source: WIAT CBS 42 - 3 days ago



Thursday, May 16


Source: WIAT CBS 42 - 4 days ago



Filed under: Investing *United Security Bancshares, Inc. Elects New Board Officers* THOMASVILLE, Ala.--(BUSINESS WIRE)-- United Security Bancshares, Inc. (NAS: USBI) today announced that the..
DailyFinance 3 days ago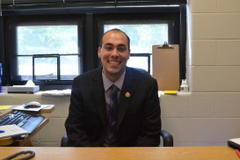 Patch Kingstowne-Rose Hill, VA -- Although he's no longer the person wielding the voice recorder or the pen and notepad, Taylor Holland — the new chief of staff for Supervisor Jeff McKay — is..
Patch 5 days ago
Only few matches found.
Search this site and the web: