Agribusiness Ruralco hopes an easing of hot and dry weather will help it recover from a half-year loss.        
The Age 23 minutes ago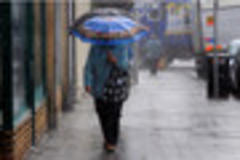 This is Lincolnshire -- Today's Lincolnshire weather is starting overcast with outbreaks of rain or drizzle. There is also a continuation of the hill fog and coastal mist. The Met Office forecast for..
This is 3 hours ago
Videos for Weather
Chief Meteorologist Bruce Sussman has details on a major change in the weather that hits Portland on Tuesday.


Source: KOIN CBS 6 - 1 hour ago



Windy and cooling off


Source: KRNV Reno - 2 hours ago



Highest chance for rain will be the afternoon hours until trades return Thursday


Source: KHON Fox 2 - 3 hours ago



Patch Marion, IA -- A thunderstorm watch has been issued for 39 counties in Iowa, including Linn County, a day after severe weather caused power outages and damages around the state. The watch..
Patch 8 hours ago

Patch Palos, IL -- *Reported by Patch Editor Ryan Fitzpatrick* Serious storms may be headed our way, warns the National Weather Service.  The storm system that dropped large hail and..
Patch 11 hours ago
Only few matches found.
Search this site and the web: