Miami Heat vs Indiana Pacers takes place in the NBA Playoffs Eastern Conference Final Game 1 on Wednesday night – a repeat of their tough six game postseason battle last season when Miami came..
Christian Post 3 hours ago

It's becoming almost an annual occurrence, the Miami Heat are in the Eastern Conference Finals again. Since 2005, the Heat have played in five of the nine Eastern Conference Finals and won two..
CBS 2 5 hours ago
Also reported by •cbs4.com

The Miami Heat and Indianapolis Pacers start the Eastern Conference Finals Wednesday night. The defending champion Heat are heavy favorites, but the Pacers have a 2-1 record this season against the..
Business Insider 5 hours ago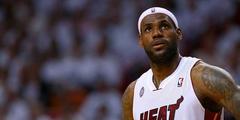 We need a miracle for our Western Conference Finals prediction (Memphis in six games) to come true. But we've still had an okay playoffs overall (9/12 correct, 4/12 exactly correct). *In the Eastern..
Business Insider 6 hours ago

The Miami Heat and Indiana Pacers will meet in the postseason for the second consecutive year, but this time, it's in the Eastern Conference Finals, beginning Wednesday night in Miami.
KansasCity.com 12 hours ago
Only few matches found.
Search this site and the web: