San Jose has had all the elements to be a champion for years but has yet to even reach the Stanley Cup final. The Sharks face a pivotal moment in Game 4 against the Kings on Tuesday.
L.A. Times 1 day ago

In an ideal world, Jarome Iginla would have rather stayed in Calgary and returned to the Stanley Cup final with the Flames, the only NHL team he has played for before his trade to Pittsburgh in late..
CBC.ca 6 days ago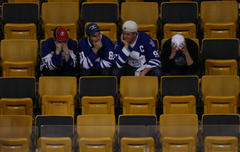 For longtime Toronto sports fans, Monday's heartbreaking 5-4 overtime loss by the Maple Leafs to the Boston Bruins brought back memories of other crushing disappointments in Toronto. Here are five of..
Toronto Star 1 week ago

City hopes to avoid Vancouver riots of 2011 after Canucks lost Stanley Cup final to the Bruins. By the time it was over, there was more than $4.2-million in damages
Globe and Mail 1 week ago
Only few matches found.
Search this site and the web: