BOSTON (AP) " Five former winners have committed to run this year's Boston Marathon.Principal sponsor John Hancock Financial announced Tuesday that 2013 men's winner Lelisa Desisa of Ethiopia and 2012..
New Zealand Herald on January 20, 2015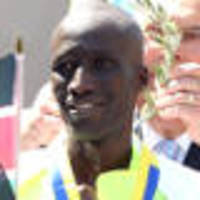 Kenyan marathon-star-turned-politician Wesley Korir has announced plans to criminalise doping, arguing drastic action was the only way to halt a worsening sporting crisis in his east African nation.
SuperSport on November 19, 2014
Also reported by •Bangkok Post

OTTAWA, ON--(Marketwired - May 06, 2014) - 2012 Boston Marathon champ and 2014 Scotiabank Ottawa Marathon contender Wesley Korir will be doing a Q&A and a short training run with 40 high school..
Marketwired on May 6, 2014

2014 Meb Keflizighi, United States, 2:08:372013 Lelisa Desisa, Ethiopia, 2:10:232012 Wesley Korir, Kenya, 2:12:402011 Geoffrey Mutai, Kenya, 2:03:022010 Robert Kiprono Cheruiyot, Kenya, 2:05:522009..
New Zealand Herald on April 21, 2014

The post 2014 Boston Marathon Winners, and Winners Throughout History by Associated Press appeared first on The Epoch Times. Here are the Boston Marathon winners from this year and throughout..
Epoch Times on April 21, 2014
Search this site and the web: