When They See Us
Netflix series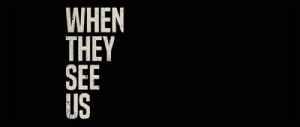 When They See Us is a 2019 American drama web television miniseries created, co-written, and directed by Ava DuVernay for Netflix, that premiered on May 31, 2019. The series was based on events of the 1989 Central Park jogger case and explores the lives of the suspects who were prosecuted and their families. The five juvenile males of color, the protagonists of the series, were convicted by juries of charges of rape, assault, and related crimes in two separate trials in 1990. They were sentenced to maximum terms and Korey, at 16, was sent to adult prison.


Central Park Five prosecutor calls Netflix series an "outright fabrication"
Fairstein, who oversaw prosecutors' interrogations, claims Ava DuVernay's Netflix series is "full of distortions and falsehoods"
CBS News - Published
Ava DuVernay lets Trump 'speak for himself' in Central Park Five series 'When They See Us'
Netflix's "When They See Us" reminds viewers how Donald Trump called for the death penalty for teenagers in the 1989 Central Park Five case.
USATODAY.com - Published
Actor Michael K. Williams on his "gut-wrenching" role in new Central Park Five series
Emmy-nominated actor Michael K. Williams is best known for portraying iconic characters like Omar Little on the HBO series "The Wire" and Chalky White on "Boardwalk Empire." Now, Williams is starring..
CBS News - Published
Search this site and the web:
You Might Like