Mateusz Morawiecki
17th Prime Minister of Poland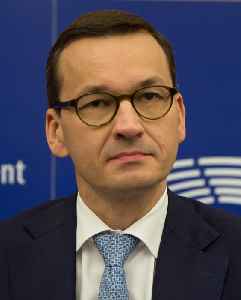 Mateusz Jakub Morawiecki is a Polish economist, historian, and politician who has been the Prime Minister of Poland since December 2017. He previously served in the Cabinet of Prime Minister Beata Szydło as Deputy Prime Minister from 2015 to 2017, Minister of Finance from 2016 to 2018, and Minister of Development between 2015 and 2018. Prior to his political appointment, Morawiecki had an extensive business career.


Trump plans to reduce U.S. troops in Germany

[NFA] The U.S. President says he wants to reduce troops in Germany to 25,000, accusing Berlin of not paying enough in military spending to NATO. Caroline Malone reports.
Credit: Reuters Studio Duration: 01:38
Published
You Might Like



Warsaw hopes some U.S. troops based in Germany will be moved to Poland

Polish Prime Minister Mateusz Morawiecki said on Saturday he hoped that some of the U.S. troops that are set to be removed from Germany will be reassigned to Poland.




Reuters - Published




Poland's ruling nationalists unexpectedly ask for confidence vote

Polish Prime Minister Mateusz Morawiecki unexpectedly asked parliament on Thursday for a vote of confidence in his government, in a move seen as an attempt to bolster his nationalist Law and Justice..




Reuters - Published





Poland's PM is confident presidential vote will be held in June

Poland's presidential election will be held in June, Prime Minister Mateusz Morawiecki said on Wednesday, amid speculation that a spat over legislation on the way the vote will be conducted may push..




Reuters - Published





Poland to scrap obligation to wear masks on May 30

Poles will be allowed to go out in public without protective masks on from May 30 and cinemas, theatres, swimming pools and gyms will reopen on June 6, Prime Minister Mateusz Morawiecki said on..




Reuters - Published





Miners in Poland's Silesia region to go back to work next week: PM

Miners in Poland's Silesia region, which has seen the largest concentration of coronavirus cases in the country, will be able to return to work on Monday and Tuesday, Poland's Prime Minister Mateusz..




Reuters - Published





Poland to reopen restaurants and hairdressers on May 18

Poland will reopen restaurants and hairdressers on May 18 as it begins easing coronavirus-linked restrictions, Prime Minister Mateusz Morawiecki said on Wednesday.




Reuters - Published





Poland to reopen hotels and shopping malls on May 4

Polish hotels and shopping malls will reopen on May 4 and pre-schools will have the option to open on May 6, Prime Minister Mateusz Morawiecki said on Wednesday, part of efforts to ease restrictions..




Reuters - Published




Poland's PM calls on Senate to speed up work on election legislation

Poland's Prime Minister Mateusz Morawiecki has called on the upper house of the parliament, the Senate, to speed up work that would enable holding the presidential election on May 10 via a postal vote.




Reuters - Published





Poland's borders to be closed until at least May 3: PM

Poland's borders will remain closed until at least May 3, Prime Minister Mateusz Morawiecki said on Thursday.




Reuters - Published





Polish president wants firms to be relieved from social security payments

Poland's President Andrzej Duda said on Thursday he asked Prime Minister Mateusz Morawiecki to exempt all Polish firms from social security payments for three months.




Reuters - Published





Poland tightens restrictions further against coronavirus

Poland will impose further restrictions on public life, including closing parks and hotels, to curb the spread of coronavirus and avoid the fate of Italy and Spain, Prime Minister Mateusz Morawiecki..




Reuters - Published




Polish new virus constraints will not influence election: PM

New constraints that are being introduced in Poland due to coronavirus will not influence the presidential election scheduled for May 10, Prime Minister Mateusz Morawiecki said on Tuesday.




Reuters - Published





No plans to delay Poland's elections due to coronavirus: PM

Poland does not plan to change the date of the May 10 presidential elections due to the coronavirus outbreak, Prime Minister Mateusz Morawiecki said on Monday.




Reuters - Published




Poland to close borders to foreigners, quarantine returnees

Poland will ban foreigners from entering the country from Sunday and impose a 14-day quarantine on its citizens returning home in a bid to curb the spread of coronavirus, Prime Minister Mateusz..




Reuters - Published




Poland cancels all mass events due to coronavirus, PM says

Poland's government has decided to cancel all mass events due to the coronavirus outbreak, Prime Minister Mateusz Morawiecki said on Tuesday.




Reuters - Published




Poland sets up health checks on borders

Poland will conduct health checks at its borders to stem the spread of coronavirus, Prime Minister Mateusz Morawiecki said on Monday.




Reuters - Published




Too early to talk about virus impact on Polish presidential election: PM

Polish Prime Minister Mateusz Morawiecki said on Monday that it is too early to talk about any potential impact of coronavirus on presidential elections scheduled for May.




Reuters - Published





Poland imposes sanitary controls at German and Czech borders

Poland has decided to impose sanitary controls at its borders with Germany and the Czech Republic to prevent further spread of coronavirus, Prime Minister Mateusz Morawiecki said on Monday.




Reuters - Published




Macron: France neither pro-Russian nor anti-Russian but simply pro-European

French President Emmanuel Macron told Polish President Andrzej Duda and Prime Minister Mateusz Morawiecki on Monday that France was neither pro-Russian nor anti-Russian but simply pro-European.




Reuters - Published




Polish officials seize 2 tonnes of cocaine from Colombia: PM

Polish officials have seized two tonnes of cocaine from Colombia worth around 2 billion zlotys ($510 million), Prime Minister Mateusz Morawiecki said on Thursday.




Reuters - Published





Polish PM: questioning NATO treaty a threat to collective defence

Poland's Prime Minister Mateusz Morawiecki said on Tuesday any moves to question the collective defense guarantee included in the NATO treaty were a threat to the future of the European Union and the..




Reuters - Published





Poland to continue reform of justice system: PM

Poland will continue to overhaul its justice system, Prime Minister Mateusz Morawiecki said on Tuesday in a speech laying out policy plans after the nationalist Law and Justice (PiS) party won a..




Reuters - Published





Netflix to change Nazi guard documentary after Polish complaint

Netflix said on Thursday it would make changes to maps in a documentary that showed German Nazi death camps inside the borders of modern Poland, after Polish Prime Minister Mateusz Morawiecki pressed..




Reuters - Published





'Terrible mistake'? Polish PM slams Netflix over documentary implying Poland shared responsibility for Nazi crimes

Netflix is "urgently" looking into complaints from Polish Prime Minister Mateusz Morawiecki that a new Holocaust documentary is "rewriting history" by implying that Poland shared responsibility..




WorldNews - Published





Poland asks Netflix to make changes to documentary about Nazi death camp guard

Polish Prime Minister Mateusz Morawiecki has pressed Netflix, the U.S. streaming and production company, to make changes to a documentary that includes a map showing Nazi death camps inside the borders..




Reuters - Published





Poland says France's Macron comments on NATO 'dangerous': FT

French President Emmanuel Macron's critical remarks about NATO were "dangerous", Poland's Prime Minister Mateusz Morawiecki said in an interview published on Sunday evening by the Financial Times.




Reuters - Published





Poland to create treasury ministry to oversee state assets

Poland's prime minister Mateusz Morawiecki said on Friday the government would launch a treasury ministry to oversee state assets, as it plans to consolidate control over state-owned utilities and..




Reuters - Published





Four die, more than 100 hurt in thunderstorm in Poland's Tatra mountains

Four people, two of them children, died and more than 100 were injured during a thunderstorm in Poland's Tatra mountains on Thursday, Prime Minister Mateusz Morawiecki said.




Reuters - Published





Poland's PM expects progress on top EU jobs Tuesday, but talks won't be easy

Poland's Prime Minister Mateusz Morawiecki said he expected a significant progress if not a final deal on Tuesday in talks over allocating top jobs within the European Union.




Reuters - Published