Stephen Miller (political advisor)
Political advisor for policy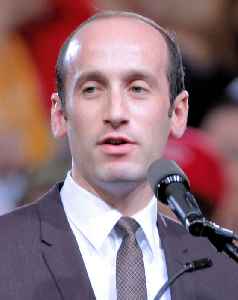 Stephen Miller is an American far-right political activist who serves as a senior advisor for policy for President Donald Trump. He was previously the communications director for then-Senator Jeff Sessions. He was also a press secretary for Republican representatives Michele Bachmann and John Shadegg.


Trump aide Stephen Miller asked to testify on immigration to House panel
WASHINGTON (Reuters) - Stephen Miller, the White House aide driving a hardline immigration stance, was invited on Wednesday to testify to a House committee about the Trump...
WorldNews - Published
Cummings calls on Stephen Miller to testify before Congress
Stephen Miller is a driving force behind the president's hardline immigration policies
CBS News - Published
Stephen Miller Invited to Testify Before House Committee
The House Oversight and Reform Committee wants explanations on what its chairman described as "troubling" immigration decisions.
Credit: Newsy Studio Duration: 01:01Published
Stephen Miller Reportedly Undermined Kirstjen Nielsen
According to a report citing unnamed former agency officials, the White House senior adviser Stephen Miller leaked unflattering statistics from US-Mexico border in an effort to denigrate Homeland..
Credit: Wochit News Duration: 00:36Published
Who Is Stephen Miller?
Homeland Security Secretary Kirstjen Nielsen abruptly resigned on Sunday. Multiple reports have said White House senior policy adviser Stephen Miller was the architect behind her resignation. Just who..
Credit: Wochit News Duration: 00:32Published
What Is Stephen Miller's Background?
Pres. Trump's adviser Stephen Miller is one of the driving forces behind President Donald Trump's harshest immigration policies. Critics say he's been brutal to immigrants seeking asylum. Business..
Credit: Wochit News Duration: 00:32Published
George Papadopoulos Says He Would Accept Pardon From Trump
In part two of an interview with Newsy, one of candidate Donald Trump's earliest advisers says he was the target of an international intel plot.
Credit: Newsy Studio Duration: 14:19Published
White House Officials Wanted DHS, ICE Officials To Release Migrants In Sanctuary Cities
The Washington Post spoke to Department of Homeland Security officials and viewed email messages which said White House officials were trying to make immigration authorities release migrants onto the..
WorldNews - Published
Search this site and the web:
You Might Like