HomePod
Smart speaker designed by Apple inc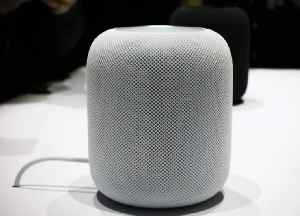 HomePod is a smart speaker developed by Apple Inc.. Announced on 5 June 2017, at the Apple Worldwide Developers Conference, its launch was later delayed from December 2017 to early 2018. Apple began taking orders on 26 January 2018, and formally released it on 9 February that year.


You Might Like
Apple just made AppleCare Plus way better with more coverage and lower replacement fees
Apple's warranty program, AppleCare Plus, just saw a significant expansion in its coverage with an added annual repair for accidental damage. The changes, spotted first yesterday by MacRumors in the..
The Verge - Published
How to watch today's Apple event
No, Apple's latest event isn't about iPhones or even Macs. However, it is likely about iPads and Apple Watches, and if those are things that interest you — or if you want to know what else Apple..
The Verge - Published
Apple preparing 75 mln 5G iPhones for later this year - Bloomberg
Apple Inc has asked suppliers to make at least 75 million 5G iPhones for later this year, along with new Apple Watch models, a new iPad Air and a smaller HomePod, Bloomberg News reported on Tuesday...
WorldNews - Published
Attention Apple Card users: You can finance more new Apple devices interest-free
Smartphones can be paid off over 24 months. However, Apple TV, HomePod and AirPods can only be financed for over six months with no interest.
USATODAY.com - Published
Former Apple HomePod engineers to launch 'revolutionary' new speaker
Two former Apple HomePod engineers have flown the Cupertino nest to create what they say will be a "revolutionary" speaker that's capable of producing "indistinguishable from reality" sound...
WorldNews - Published
Apple plans iPad-like design for next iPhone, smaller HomePod
Apple Inc is preparing a redesign of its top-tier iPhones, borrowing cues from the latest iPads, as part of a major fall refresh that will see 5G added to as many as four new handset models and the..
WorldNews - Published
What Apple didn't talk about at its event
Apple announced new iPhones, Watch and an iPad but forgot to mention updates for many products, including HomePod and computers. Here's what it left out.
USATODAY.com - Published
Apple's AirPods will not escape Trump's China tariffs
Apple Inc's AirPods, Apple Watch and HomePod, which have helped the company to offset waning sales of its bestselling iPhone this year, are not included in a temporary reprieve on tariffs by the Trump..
Reuters - Published
Amazon is releasing a high-end Echo speaker in 2020 and working on home robots, report
Amazon is reportedly working on a new Echo speaker with improved sound quality, competing with Apple's HomePod and premium Sonos speakers.
USATODAY.com - Published