Amy McGrath
Former Marine fighter pilot, American politician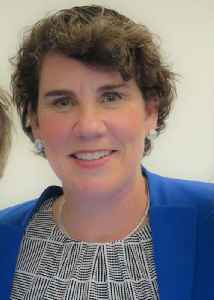 Amy Melinda McGrath is an American politician and former Marine fighter pilot. During her 20 years of service in the Marine Corps, McGrath flew 89 combat missions against al-Qaeda and the Taliban. McGrath was the first woman to fly a combat mission for the Marine Corps, as well as the first to pilot the F/A-18 on a combat mission. Toward the end of her service, McGrath worked domestically as a political adviser, a liaison officer, and an instructor at the United States Naval Academy.


McGrath Defeats Booker In Kentucky

Amy McGrath won the Democratic primary to face GOP Sen. Majority Leader Mitch McConnell in Kentucky. McGrath is a former fighter pilot and 2018 House candidate backed by the US Senate Democrats'..
Credit: Wochit News Duration: 00:32
Published
Reduced voting sites, heated races in NY and KY

New York, Kentucky were among the six states holding primaries Tuesday, with heated, key races and fewer polling sites due to social distancing restrictions. Lisa Bernhard has more.
Credit: Reuters Studio Duration: 02:20
Published
You Might Like



Amy McGrath Defeats Charles Booker and Will Face McConnell in Kentucky

Ms. McGrath, who raised over $40 million, won the Democratic primary by narrowly holding off a candidate who had harnessed energy from the protests over racial injustice.




NYTimes.com - Published





Kentucky US Senate primary: Amy McGrath squeaks out win over Charles Booker

Former fighter pilot Amy McGrath has won the Democratic primary for U.S. Sen. Mitch McConnell's Senate seat in a slim victory over state Rep. Charles Booker.




USATODAY.com - Published





New York Primary, Kentucky Senate Showdown: What to Watch For Today

There are competitive House races in New York and Charles Booker faces Amy McGrath in the Senate primary in Kentucky. Results may be delayed because of the many voters casting absentee ballots.




NYTimes.com - Published





Kentucky and New York Hold Primaries Today: What to Watch For

There are competitive House races in New York and Charles Booker faces Amy McGrath in the Senate primary in Kentucky. Results may be delayed because of the many voters casting absentee ballots.




NYTimes.com - Published





Booker and McGrath Intensify Advertising Blitz in Kentucky

As the Democratic primary between Amy McGrath and Charles Booker gets tighter, Mr. Booker has closed the gap in ad spending as both make a final push before Tuesday's voting.




NYTimes.com - Published




How the Shooting of Breonna Taylor Changed the Kentucky Senate Race

With a war chest of $40 million, Amy McGrath was considered a safe bet in the Democratic primary. But the recent movement for racial justice has elevated the candidacy of her African-American rival,..




NYTimes.com - Published





Democrat challenging Mitch McConnell raises $10.7 million in third quarter

Amy McGrath, who narrowly lost a congressional race in 2018, is challenging Mitch McConnell in the 2020 Senate race




CBS News - Published





Amy McGrath calls out Sen. Mitch McConnell for posting a photo of her name on a tombstone

There's a new zinger in the ongoing saga between Senate Majority Leader Mitch McConnell and his rival, Amy McGrath.




USATODAY.com - Published





New Democratic challenger joins primary race against Mitch McConnell

Former congressional candidate Amy McGrath joined the race earlier this month




CBS News - Published





Amy McGrath reverses course on Kavanaugh confirmation comment

The candidate said she would have voted to confirm Brett Kavanaugh to the Supreme Court and then just hours later changed her mind




CBS News - Published





3 ways for Elizabeth Warren or another Democratic president to 'deal with' Mitch McConnell

It's not too late for Democrats to ratchet up pressure on Mitch McConnell. They can make up for lost time and opportunities by helping Amy McGrath.




USATODAY.com - Published





Amy McGrath: 'If President Trump has good ideas, I'll be for them'

Democrat Amy McGrath explains how she plains to put a wedge between Senate Majority Leader Mitch McConnell and President Donald Trump.




USATODAY.com - Published





McConnell challenger Amy McGrath raises $2.5 million in 24 hours

The haul breaks multiple records including the most money ever raised in a single day by a Senate campaign




CBS News - Published





Amy McGrath, Running to Unseat Mitch McConnell, Raises $2.5 Million in 24 Hours

The fund-raising haul was the most ever in the first 24 hours of a Senate campaign. Mr. McConnell is a formidable fund-raiser as well, who spent more than $30 million in his 2014 re-election campaign.




NYTimes.com - Published





Amy McGrath's Senate campaign says it set money record in first 24 hours after announcement

The chance to replace Sen. Mitch McConnell in Washington, D.C. has big money flowing into candidate Amy McGrath's campaign.




USATODAY.com - Published





Donald Trump tweets Democrats 'coming after' Mitch McConnell as Amy McGrath enters race

Trump's remarks come after a day full of them from all sides over Amy McGrath's entry into the race against Mitch McConnell for his Senate seat.




USATODAY.com - Published





Ex-combat pilot Amy McGrath challenges Republican McConnell for Senate

Amy McGrath, a former U.S. Marine combat pilot whose compelling biography drew national attention during an unsuccessful Democratic congressional campaign last year, said on Tuesday she would challenge..




Reuters - Published




5 things to know about Amy McGrath vs. Mitch McConnell in the 2020 Kentucky Senate race

Amy McGrath made the announcement Tuesday that she plans to take on Senate Majority Leader Mitch McConnell in the 2020 U.S. Senate race.




USATODAY.com - Published





Amy McGrath to run for Mitch McConnell's Senate seat

Amy McGrath, a Marine combat aviator who narrowly lost a House race to an incumbent Republican in Kentucky, has set her sights on an even more formidable target: Senate Majority Leader Mitch McConnell...




CBS News - Published





McConnell gets challenger in retired fighter pilot Amy McGrath

"Everything that's wrong in Washington had to start some place," McGrath says of McConnell




CBS News - Published





Amy McGrath says she will take on Mitch McConnell in 2020 US Senate race

Amy McGrath made the announcement Tuesday that she plans to take on Senate Majority Leader Mitch McConnell in the 2020 U.S. Senate race.




USATODAY.com - Published