Sarah Cooper
Author, Comedian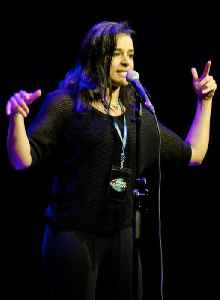 Sarah Anne Cooper is an Jamaican-American author and comedian based in New York City. Her first book, 100 Tricks to Appear Smart in Meetings, was published on October 4, 2016. Her second book, How to Be Successful Without Hurting Men's Feelings, was published on October 30, 2018. She has written for the animated TV series Science! During the COVID-19 pandemic, Cooper began uploading videos of herself lip syncing statements made by Donald Trump.


You Might Like
Who is Sarah Cooper? Viral Trump impersonator appears at DNC, bags TV specials
Comedian Sarah Cooper just bagged a Netflix special. Here are her thoughts on the viral Trump impressions that have launched her social media stardom.
USATODAY.com - Published
Comedian Sarah Cooper riffs on Trump at DNC
Comedian Sarah Cooper appeared at the DNC's convention, reviving her famous TikTok videos in which she imitates Donald Trump. After her comedy skit, where she copied Trump talking about mail-in..
USATODAY.com - Published
After inking a deal with Netflix, Trump impersonator Sarah Cooper is also getting a TV show
Image: Sarah Cooper We already knew that Sarah Cooper, the comedian that has gone viral for her impersonations of Trump, is getting a comedy special on Netflix. And today, Cooper has inked a deal..
The Verge - Published
Sarah Cooper, the viral Trump impersonator, is getting a comedy special on Netflix
Image: Netflix Sarah Cooper, the comedian who went viral this year on TikTok and Twitter for her political satire videos impersonating Donald Trump, is getting her own comedy special on..
The Verge - Published
Search this site and the web: