Fayez al-Sarraj
Libyan politician and architect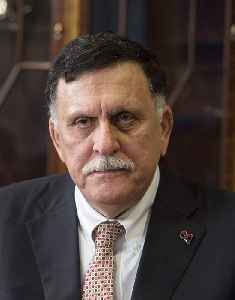 Fayez Mustafa al-Sarraj is a Libyan politician who is currently the Chairman of the Presidential Council of Libya and prime minister of the Government of National Accord (GNA) of Libya that was formed as a result of the Libyan Political Agreement signed on 17 December 2015. He has been a member of the Parliament of Tripoli.


Fighting Continues In Libya But Russia, US Say They Won't Support Ceasefire Resolution
With mortar bombs continuing to target a Tripoli suburb on Thursday, the United States and Russia said they could not support a British-drafted United Nations Security Council resolution which would..
WorldNews - Published
Libya crisis: PM Fayez al-Serraj condemns 'silence' of allies
Fayez al-Serraj, whose troops face an insurgency, feels "abandoned" by his international allies.
BBC News - Published
UN Security Council Resolution Calls for Cease-fire in Libya
Violence in Libya increased earlier this month when Gen. Khalifa Haftar's armed forces started trying to take control of the county's capital.
Credit: Newsy Studio Duration: 01:11Published
Refugees and civilians caught in Libya's crossfire
Casualties are mounting in the battle for Libya's capital Tripoli, with thousands fleeing their homes and the UN's refugee agency forced to relocate refugees from a detention camp. David Doyle reports.
Credit: Reuters Studio Duration: 02:00Published
Battle for Tripoli threatens hopes of Libyan peace
Deaths and displacements mount as forces loyal to a Gaddafi-era officer try to advance on Libya's capital Tripoli. David Doyle reports.
Credit: Reuters Studio Duration: 01:56Published
US Pulls Forces Out of Libya Amid 'Increased Unrest'
U.S. Africa Command announced it's temporarily pulling a contingent of forces from Libya while it continues to keep an eye on the situation.
Credit: Newsy Studio Duration: 01:20Published
GNA head accuses Haftar of 'betrayal', vows to end Tripoli push
Amid fierce clashes, Fayez al-Sarraj says the self-styled Libyan National Army will meet resistance in march on Tripoli.
Credit: Al Jazeera STUDIO Duration: 02:15Published
UN's Libya envoy: Haftar's actions looked like coup
The United Nations (UN)'s envoy to Libya says self-styled commander Khalifa Haftar attempted a "coup" by issuing an arrest warrant against Prime Minister Fayez al-Serraj and other officials in..
WorldNews - Published
U.N. Libya envoy says Haftar made coup attempt with advance on Tripoli
Eastern Libyan commander Khalifa Haftar tried to stage a coup by issuing an arrest warrant for Prime Minister Fayez al-Serraj, U.N. envoy Ghassan Salame said on Monday with Libya's top rivals locked in..
Reuters - Published
Search this site and the web:
You Might Like