Benjamin Griveaux
French politician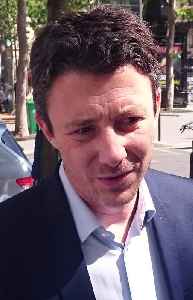 Benjamin-Blaise Griveaux is a French politician. A member of La République En Marche! (REM), he was elected to the National Assembly on 18 June 2017, representing Paris. He served as Government Spokesman from 27 November 2017 until 27 March 2019 and has frequently been described as one of President Emmanuel Macron's closest political allies.


Petr Pavlensky: Russian who released Macron ally sex video arrested
A Russian protest artist is held after Benjamin Griveaux is forced to ditch his Paris mayoral bid.
BBC News - Published
Russian artist defends sex tape leak that ended Paris mayoral bid
Russian protest artist Piotr Pavlensky on Friday confirmed to AFP that he posted a sex video that tanked the Paris mayoral bid of ruling party candidate Benjamin Griveaux, calling his action a fight..
France 24 - Published
France usually shrugs at sex scandals but not this one
Benjamin Griveaux's departure shakes up the Paris mayor's race. With only a month to go before the vote, President Emmanuel Macron's party now does not have a candidate ......
WorldNews - Published
Sex tape triggers French 'political earthquake', leaving Macron's Paris bid in tatters
Benjamin Griveaux's troubled campaign for mayor of Paris came to a startling end on Friday after an online leak of sexual images led Emmanuel Macron's close ally to pull out of the race, leaving..
France 24 - Published
Griveaux Paris race: Sex video prompts Macron ally to step down
Benjamin Griveaux condemns a "torrent of mud" after a video is apparently posted by a Russian artist.
BBC News - Published
Macron's candidate for Paris mayor quits over sexting row
French President Emmanuel Macron suffered a setback on Friday when one of his closest lieutenants, Benjamin Griveaux, pulled out of the race to become mayor of Paris after it was alleged he sent sexual..
Reuters - Published
Macron ally Griveaux withdraws from Paris mayor race after sex scandal
(Editor's note: This story contains language in the last paragraph that some readers may find offensive)
Reuters - Published
Griveaux, ally of France's Macron, withdraws from Paris mayoral race
PARIS (Reuters) - Benjamin Griveaux, French President Emmanuel Macron's preferred candidate for Mayor of Paris, said on Friday he had decided to withdraw his candidacy following what he said were..
WorldNews - Published
Also reported by •Reuters
You Might Like