Hurricane Michael
Category 5 Atlantic hurricane in 2018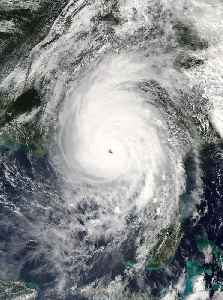 Hurricane Michael was the first Category 5 hurricane to strike the contiguous United States since Andrew in 1992. In addition, it was the third-most intense Atlantic hurricane to make landfall in the contiguous United States in terms of pressure, behind the 1935 Labor Day hurricane and Hurricane Camille of 1969. It was the first Category 5 hurricane on record to impact the Florida Panhandle, and was the fourth-strongest landfalling hurricane in the contiguous United States, in terms of wind speed.


2 Former Florida City Officials Are Accused of Fraudulently Taking FEMA Money
Five people, including three business executives, were indicted on charges that they conspired to take $5 million in disaster aid after Hurricane Michael in 2018.
NYTimes.com - Published
Rubio: U.S.-Saudi relationship should be "completely revised" if Saudis killed missing journalist
Sen. Marco Rubio, R-Florida, joins John Dickerson to discuss Hurricane Michael as well as the disappearance of Jamal Khashoggi and its implications for the U.S. relationship with Saudi Arabia.
CBS News - Published
After Hurricane Michael, Georgia family remembers their 'spunky' girl with the beautiful heart
A year ago, a sweet and "spunky" 11-year-old girl died during Hurricane Michael. Faith, memories and overwhelming support has kept her family going.
USATODAY.com - Published
Tropical Storm Nestor bears down on areas still recovering from Michael
Powerful winds and possible tornadoes from Tropical Storm Nestor battered parts of central and eastern Florida Friday night, creating potentially dangerous storm surge along the Florida Panhandle...
CBS News - Published
Slow recovery 1 year after Hurricane Michael
It has been one year since Hurricane Michael slammed the Florida Panhandle. The population of Panama City beach is down 25 percent, more than 8,000 people have not returned. About 800 no longer live in..
CBS News - Published
One year after Hurricane Michael, a "new normal" for Florida residents
We revisit Mexico Beach, the town the Category 5 storm hit the hardest
CBS News - Published
10/11/18: Red and Blue
GOP on the offensive against Democrats; The path of Hurricane Michael
CBS News - Published
You Might Like