Uncut Gems
2019 film directed by Joshua and Ben Safdie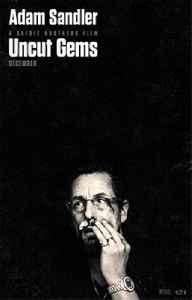 Uncut Gems is a 2019 American crime thriller film directed by Josh and Benny Safdie, who co-wrote the screenplay with Ronald Bronstein. The film stars Adam Sandler as Howard Ratner, a Jewish jeweler and gambling addict in New York City's Diamond District, who must retrieve an expensive gem he purchased to pay off his debts. The film also stars Kevin Garnett, Idina Menzel, Lakeith Stanfield, Julia Fox, and Eric Bogosian. Filming took place from September to November 2018. The original score was composed by Daniel Lopatin.


You Might Like
Adam Sandler jokes about Oscar 'snub' during expletive-laden Spirit Awards speech
"The Independent Spirit Awards are the 'best personality' awards of Hollywood," Sandler joked, accepting the best actor award for "Uncut Gems."
USATODAY.com - Published
Adam Sandler's Oscar buzz
Actor Adam Sandler calls the Oscar buzz around his latest movie "Uncut Gems" exciting, but adds that he's gjust happy to "be in a cool movie." (Jan. 13)  
USATODAY.com - Published
Daniel Craig: 'I'll act for food'
At the NBR Awards, Daniel Craig says "any job will do" and praises Phoebe Waller-Bridge's contribution to the upcoming Bond movie, while Adam Sandler and Renee Zellweger discuss their award-winning..
USATODAY.com - Published
Julia Fox: Adam Sandler 'is such a star'
At the Los Angeles premiere of "Uncut Gems," newcomer Julia Fox discusses beating 300 hopefuls for a role in the Safdie brothers' drama and acting opposite Adam Sandler. (Dec. 31)  
USATODAY.com - Published
Search this site and the web: