Vegas Golden Knights
National Hockey League team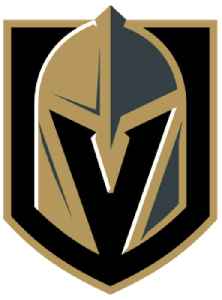 The Vegas Golden Knights are a professional ice hockey team based in the Las Vegas metropolitan area that began play in the 2017–18 NHL season. They are members of the Pacific Division of the Western Conference of the National Hockey League (NHL). The team is owned by Black Knight Sports & Entertainment, a consortium led by Bill Foley and the Maloof family. The team plays its home games at T-Mobile Arena on the Las Vegas Strip in Paradise, Nevada.


After guarantee, Sharks' Tomas Hertl forces Game 7 vs. Golden Knights with double-OT goal
Tomas Hertl said the Sharks would return to San Jose for Game 7, and he assured that Sunday by scoring the winner in double-overtime.
USATODAY.com - Published
Hertl lifts Sharks past Vegas 2-1 in 20T to force Game 7
Tomas Hertl scored a short-handed goal 11:17 into the second overtime to lift the San Jose Sharks to a 2-1 win over the Vegas Golden Knights, forcing a Game 7 in their first-round playoff series
USATODAY.com - Published
Vegas Golden Knights Apparently Set To Offer Mark Stone A Great Deal
The Vegas Golden Knights paid a pretty steep price to get highly sought-after Ottawa Senators winger Mark Stone at the final bell of the trade deadline on Monday, giving up their number-one prospect in..
Credit: Wochit News Duration: 00:44Published
Sharks start fast to stay alive, beat Golden Knights 5-2
Tomas Hertl got San Jose off to the fast start that had been missing the past three games, Martin Jones came up with the big saves and the Sharks staved off elimination by beating the Vegas Golden..
USATODAY.com - Published
Fleury gets 15th playoff shutout, Vegas beats Sharks 5-0
Max Pacioretty had two goals and two assists, Marc-Andre Fleury earned his 15th playoff shutout and the Vegas Golden Knights defeated the San Jose Sharks 5-0 for a 3-1 lead in their best-of-seven..
USATODAY.com - Published
Sharks' Joe Thornton could face NHL punishment over hit
San Jose Sharks center Joe Thornton may face NHL punishment over a hit on the Golden Knights' Tomas Nosek of a Game 3 loss to Vegas
USATODAY.com - Published
Stone powers Vegas past San Jose 6-3
Mark Stone scores 3 times as Vegas Golden Knights beat San Jose Sharks 6-3 in Game 3
USATODAY.com - Published
You Might Like