Alphabet Inc.
American multinational conglomerate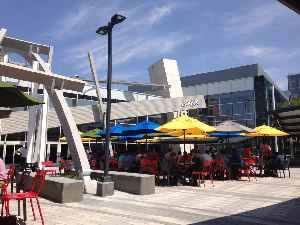 Alphabet Inc. is an American multinational conglomerate headquartered in Mountain View, California. It was created through a restructuring of Google on October 2, 2015, and became the parent company of Google and several former Google subsidiaries. The two co-founders of Google continued to remain as controlling shareholders, board members, and employees at Alphabet. Alphabet is the world's fourth-largest technology company by revenue and one of the world's most valuable companies.


DOJ to file Google lawsuit in weeks -sources

The Justice Department, which has been conducting an antitrust investigation of Alphabet Inc's Google, plans to bring a lawsuit against Google as soon as this month, according to two sources familiar..
Credit: Reuters - Politics Duration: 01:40
Published
You Might Like



How Google Maps uses DeepMind's AI tools to predict your arrival time

Photo by Thomas Trutschel/Photothek via Getty Images Google Maps is one of the company's most widely-used products, and its ability to predict upcoming traffic jams makes it indispensable for many..




The Verge - Published





Alphabet's Verily is getting into insurance

Verily Life Sciences, the health care company owned by Alphabet, is getting into insurance, the company announced today. Verily is launching a new subsidiary for the effort called Coefficient Insurance..




The Verge - Published





Google turns Android phones into earthquake sensors; California to get alerts

OAKLAND: Alphabet Inc's Google's Android phones on Tuesday started detecting earthquakes around the world to provide data that could eventually give billions of users precious seconds of warning of..




WorldNews - Published





Alphabet's revenue fell for first time ever as Covid hit ads

Alphabet Inc.'s revenue growth machine ground to a halt for the first time in the company's two-decade history, stopped by the coronavirus pandemic and ensuing economic fallout that forced..




WorldNews - Published





Google in talks to take over more search tasks on Samsung phones

Alphabet Inc.'s Google and Samsung Electronics Co. are negotiating a major deal that would give Google products more prominence on the South Korean company's smartphones, according to..




WorldNews - Published





Google announces $10 billion 'digitization' fund for India

NEW DELHI: US tech giant Google is investing in a $10 billion fund to help accelerate India's transition to a digital economy in the next five to seven years. Sundar Pichai, CEO of Alphabet Inc's..




WorldNews - Published





Facebook, YouTube, Twitter to face same EU rules on hateful content as broadcasters

Shares Facebook, Alphabet-owned YouTube, Twitter and other social media will for the first time be subject to EU broadcasting rules on hate speech and harmful content under European Commission..




WorldNews - Published





Google Removes Misleading Ads In Voting-Related Searches

Alphabet Inc's Google said on Monday that it had removed search ads that charged users searching for voting information large fees for voter registration or harvested their personal data. ......




WorldNews - Published





Massive spying on users of Google's Chrome shows new security weakness

San Francisco: A newly discovered spyware effort attacked users through 32 million downloads of extensions to Google's market-leading Chrome web browser, researchers at Awake Security told Reuters,..




WorldNews - Published





Australian regulator raises concerns over Google, Fitbit deal

Australia's consumer watchdog on Thursday raised initial competition concerns over Alphabet Inc-owned Google's $2.1 billion bid for fitness tracker company Fitbit. ......




WorldNews - Published





Google's new rules clamp down on discriminatory housing, job ads

Alphabet Inc's Google said on Thursday it was tackling unlawful discrimination by barring housing, employment and credit ads from being targeted to its users based on their postal code, gender, age,..




Reuters - Published





U.S. states lean toward breaking up Google's ad tech business: CNBC

The U.S. state attorneys general investigating Alphabet Inc's Google for potential antitrust violations are leaning towards pushing for a breakup of its ad technology business as part of an expected..




Reuters - Published





Google takes down Indian app that removed Chinese ones - spokesman

Alphabet Inc's Google has taken down an Indian mobile application from its app store that allowed users to remove other Chinese apps from their phones as it violated certain company policies, a..




Reuters India - Published





Facebook staff walk off job over Trump stance

Facebook employees walked away from their work-from-home desks on Monday and took to Twitter to accuse Chief Executive Mark Zuckerberg of inadequately policing US President Donald Trump's posts as..




WorldNews - Published





Google postpones Android 11 unveiling amid U.S. protests

Alphabet Inc's Google on Saturday said it has postponed next week's planned unveiling of the beta version of its latest Android 11 mobile operating system in light of protests and unrest in the United..




Reuters - Published




Voda Idea shares jump 15% on Google investment report

Mumbai: Shares of Vodafone India jumped 15 per cent in Friday's trade after a Financial Times report on Thursday said Alphabet Inc's Google is exploring an investment in Vodafone Group Plc's..




WorldNews - Published





Google sees resurgence in state-backed hacking, phishing related to COVID-19

Security experts at Alphabet Inc's Google sent 1,755 warnings in April to users whose accounts were targets of government-backed attackers, following a resurgence in hacking and phishing attempts..




Reuters India - Published





U.S. state of Arizona files consumer fraud lawsuit against Google

Arizona filed a consumer fraud lawsuit against Alphabet Inc's Google on Wednesday, alleging that the U.S. tech giant used "deceptive" and "unfair" practices to obtain the location data of users.




Reuters - Published




Exclusive: Google faces antitrust case in India over payments app - sources

India's antitrust body is looking into allegations that Alphabet Inc's Google is abusing its market position to unfairly promote its mobile payments app in the country, five sources familiar with the..




Reuters India - Published





San Francisco area roads busier, still far below normal as stay home orders remain

More people have been venturing out for work and play in recent weeks in the San Francisco Bay Area, according to traffic data, even as some of the strictest stay-at-home orders in the country remain..




Reuters - Published




Alphabet's Loon and S.Africa's Vodacom to expand rural internet in Mozambique

Loon, a unit of Google's owner Alphabet Inc , which uses high-altitude balloons to provide mobile internet to remote areas, has signed a deal with Vodacom to expand the South African mobile operator's..




Reuters - Published





Facebook, YouTube remove 'Plandemic' video with 'unsubstantiated' coronavirus claims

Facebook Inc and YouTube, the video service of Alphabet Inc's Google, said on Thursday that they were removing a video that made medically unsubstantiated claims relating to the novel coronavirus..




Reuters India - Published





Most Americans cannot or will not use COVID-19 contact tracing apps: poll

More than half of all Americans either do not own smartphones or would not use apps backed by Alphabet Inc's Google and Apple Inc to trace who has been exposed to the new coronavirus, according to a..




Reuters - Published





Alphabet earnings drive futures higher ahead of GDP data

U.S. stock index futures rose on Wednesday after Google-parent Alphabet reported upbeat quarterly results, while investors braced for data that could show a sharp contraction in the domestic economy.




Reuters - Published





Google parent Alphabet tops sales estimates despite virus hammering economy

Alphabet Inc on Tuesday beat analysts' estimate for quarterly revenue as its Google unit experienced a smaller drop-off in advertiser spending than had been anticipated given economic concerns related..




Reuters - Published





Google parent Alphabet quarterly revenue beats estimates

Google parent Alphabet Inc beat Wall Street estimates for first-quarter revenue on Tuesday, recording 13% growth even as companies drastically slashed spending during the coronavirus crisis.




Reuters - Published





YouTube expands fact-check feature to U.S. video searches during COVID-19 pandemic

YouTube, the video service of Alphabet Inc's Google, said on Tuesday it would start showing text and links from third-party fact checkers to U.S. viewers, part of efforts to curb misinformation on the..




Reuters - Published





Google's fast-growing Meet video tool getting Zoom-like layout, Gmail link

Google will allow business and education users on Gmail.com to directly take calls on its video conferencing tool Meet starting Thursday, a new feature being offered as the Alphabet Inc unit seeks to..




Reuters - Published





Zoom hires former Facebook security chief as Google bans desktop app

Zoom Video Communications Inc has tapped former Facebook security chief Alex Stamos as an adviser to improve the privacy and security of its rapidly growing video-conferencing app amid a global..




Reuters - Published





Google data shines light on whether coronavirus lockdowns worldwide are working

Alphabet Inc's Google has published charts showing how the coronavirus has brought hard-hit Italy to a standstill, led to runs on grocery stores around the world and prompted a stark drop in going-out..




Reuters - Published





Google cancels annual developer conference on coronavirus fears

Alphabet Inc's Google on Friday canceled its annual developer...




WorldNews - Published





YouTube to reduce streaming quality in Europe due to coronavirus

Alphabet Inc's YouTube said on Friday it will reduce its streaming quality in the European Union to avert internet gridlock as thousands of Europeans, constrained by the coronavirus outbreak, switch to..




Reuters - Published





Google critics see its Firebase tools as another squeeze play

Some app developers say Alphabet Inc's Google is increasingly pressing them to embed code in their own products that will deepen Google's access to data on consumers, giving the company a leg up on..




Reuters - Published





Social media giants warn of AI moderation errors as coronavirus empties offices

Alphabet Inc's YouTube, Facebook Inc and Twitter Inc warned on Monday that more videos and other content could be erroneously removed for policy violations, as the companies empty offices and rely on..




Reuters - Published





Coronavirus screening pilot website launches for some California counties

Verily, a unit of Google parent company Alphabet, created a coronavirus testing pilot website in collaboration with federal, state and local officials.




USATODAY.com - Published





Alphabet shares surge 9% after Trump praises Google for coronavirus website

Shares of Google parent Alphabet Inc closed up more than 9% after U.S. President Donald Trump said on Friday the search giant would create a website to help determine whether individuals need a..




Reuters - Published





Google employee who was at Zurich office tests positive for coronavirus

An employee of Alphabet Inc's Google, who had been in the Zurich office, has tested positive for coronavirus, the company said on Friday.




Reuters - Published




Google to invest over $10 billion in 2020 on U.S. data centers, offices

Alphabet Inc's Google said on Wednesday it would invest more than $10 billion in offices and data centers across the United States this year.




Reuters - Published




New Mexico AG sues Google for collecting school kids' personal data

New Mexico Attorney General Hector Balderas on Thursday sued Alphabet Inc's Google search engine, alleging that its educational software collects young students' personal information without the..




Reuters - Published




US regulators probing tech acquisitions

US federal regulators are ramping up their investigation of the market dominance of giant technology companies, demanding detailed information on five companies' acquisitions of smaller firms back to..




WorldNews - Published





Alphabet's Google puts up fight against EU fine

Silicon Valley behemoth Google is appealing a multibillion-euro fine that was slapped on it by EU antitrust regulators. The US company says the penalty can only be described as "ill-founded and..




WorldNews - Published





U.S. trade panel opens patent probe into Google speakers after Sonos complaint

The U.S. International Trade Commission said on Thursday it was launching a patent investigation into certain audio players and controllers sold by Alphabet Inc's Google based on a complaint by rival..




Reuters - Published





State AGs, Justice Department discuss Google antitrust probe

State attorneys general investigating Alphabet Inc's Google unit met on Tuesday with U.S. Justice Department officials to coordinate efforts to probe the search and advertising giant, officials told..




Reuters - Published





Alphabet shares fall as Google misses on sales, YouTube revenue disappoints

Alphabet Inc's new Chief Executive Sundar Pichai unveiled sales figures that investors have long demanded, but shares fell 5% as Google's advertising business and the new data about YouTube and Google..




Reuters - Published




Alphabet posts slowest fourth-quarter revenue growth in five years, reveals YouTube revenue

Google-parent Alphabet Inc on Monday reported its worst fourth-quarter revenue growth since 2015, missing analysts' estimate for a period in which its top online advertising rivals beat expectations.




Reuters - Published




YouTube reinforces guidelines on fighting misleading election content

Alphabet Inc's YouTube on Monday reinforced its guidelines on tackling fake or misleading election-related content on its platform as the United States gears up for the presidential election later this..




Reuters - Published





Self-driving big-rig trucks coming soon? Waymo set to begin mapping interstates in Texas, New Mexico

Waymo, the self-driving vehicle division of Google parent Alphabet, is about to start mapping in Texas and New Mexico for self-driving big rigs.




USATODAY.com - Published