Alphabet Inc.
American holding company and conglomerate created by Google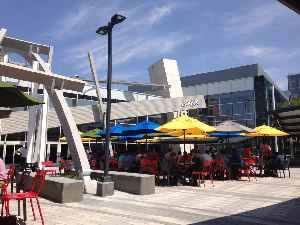 Alphabet Inc. is an American multinational conglomerate headquartered in Mountain View, California. It was created through a corporate restructuring of Google on October 2, 2015, and became the parent company of Google and several former Google subsidiaries. The two founders of Google assumed executive roles in the new company, with Larry Page serving as CEO and Sergey Brin as president. Alphabet is the world's fifth-largest technology company by revenue and one of the world's most valuable companies.


Google policy head retools team for global lobbying push
Alphabet Inc's Google is trying to plug a surge of public scrutiny around the world by overhauling how its policy office operates, with increased emphasis on having policy staffers and top company..
Reuters - Published
Antitrust head urged to recuse himself from Google, Apple probes
Democratic presidential candidate Elizabeth Warren called for the head of the Justice Department's antitrust division to recuse himself from working on any investigations of Alphabet Inc.'s Google..
WorldNews - Published
Federal Investigators Will Probe Tech Firms For Antitrust Violations
According to Gizmodo, a flurry of antitrust probes have been opened by federal authorities into tech companies. Although the Justice Department and the Federal Trade Commission are responsible for..
Credit: Wochit News Duration: 00:35Published
Tech selloff slams Nasdaq
Regulatory fears hurt big name tech stocks Monday, dragging down the Nasdaq and the S&P 500 on the first trading day of June. Fred Katayama reports.
Credit: Reuters Studio Duration: 01:02Published
Justice Department To Oversee Antitrust Probe Of Apple
According to Business Insider, the Justice Department will oversee a federal antitrust investigation into Apple. Although the Federal Trade Commission is also responsible for investigating antitrust..
Credit: Wochit News Duration: 00:33Published
US Justice Department Might Investigate Google
The U.S. Justice Department want to investigate Alphabet Inc's Google. They want to determine whether Alphabet Inc broke antitrust law in operating its online businesses. According to Reuters, the..
Credit: Wochit News Duration: 00:32Published
Exclusive: Google suspends business with Huawei - source
Google parent Alphabet has suspended business with Huawei after the Trump administrations' blacklist of the Chinese technology giant, a source close to the matter told Reuters. Huawei will lose access..
Credit: Reuters Studio Duration: 01:27Published
Alphabet misses earnings estimates, stock plummets
Google-parent Alphabet Inc missed Wall Street estimates for first-quarter revenue on Monday, amid increased scrutiny on the company's privacy practices and efforts to restrict advertising on..
Credit: Reuters Studio Duration: 01:44Published
NHS data is worth billions – but who should have access to it?
Tech and drug firms including Google parent Alphabet want to use records of 65 million people The NHS is a valuable national asset – and not just in terms of the lives it saves. Last week the..
WorldNews - Published
Search this site and the web:
You Might Like