Deborah Birx
American physician and diplomat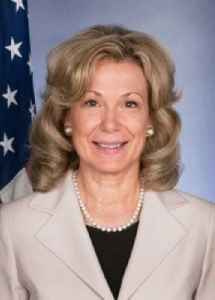 Deborah Leah Birx is an American physician and diplomat serving as the United States Global AIDS Coordinator for Presidents Barack Obama and Donald Trump since 2014; she has served as the Coronavirus Response Coordinator for the White House Coronavirus Task Force since February 2020. She specializes in HIV/AIDS immunology, vaccine research and global health, and was responsible for the President's Emergency Plan for AIDS Relief (PEPFAR) program in 65 countries supporting HIV/AIDS treatment and prevention programs.


Dr. Birx denies 'herd immunity' policy idea

[NFA] White House Coronavirus Task Force Coordinator Dr. Deborah Birx on Wednesday dismissed the notion that the White House was considering a strategy of allowing Americans to become infected with..
Credit: Reuters - Politics Duration: 01:34
Published
Health experts warn U.S. cities of 'trouble ahead'

White House health experts are warning of a slow rise in the percentage of people testing positive for coronavirus in U.S. cities such as Boston, Chicago, Detroit and Washington and urged local leaders..
Credit: Reuters - Politics Duration: 02:19
Published
Trump Task Force Member Doctor Birx Says Pandemic Has Entered New Phase

Doctor Deborah Birx made the warnings during a Sunday interview on CNN's 'State of the Union'.
Credit: Cover Video STUDIO Duration: 01:19
Published
Trump labels Birx 'pathetic' in tweet

[NFA] U.S. President Donald Trump took a public swipe at White House coronavirus task force coordinator Dr. Deborah Birx a day after she said infections from the virus were "extraordinarily widespread"..
Credit: Reuters Studio Duration: 02:17
Published
Dr. Birx Urges All Americans To Wear Face Masks And Practice Social Distancing

Dr. Deborah Birx on Sunday said America is in a new phase in its ongoing fight against the coronavirus. According to CNN, Dr. Birx said that the deadly virus is more widespread than when it first took..
Credit: Wochit News Duration: 00:34
Published
U.S. records over 25,000 COVID-19 deaths in July

U.S. coronavirus deaths rose by over 25,000 in July and cases doubled in 19 states during the month, according to a Reuters tally. This report produced by Jonah Green.
Credit: Reuters - Politics Duration: 01:41
Published
'A war against COVID and stupidity': Houston doctor

Dr. Joseph Varon is frustrated. A surge in COVID-19 patients is straining his Houston, Texas hospital and yet, every day, he sees people on the street who are not wearing masks and not physically..
Credit: Reuters - Politics Duration: 03:06
Published
You Might Like



Coronavirus updates: New saliva test a 'huge step forward'; Birx urges Americans to wear masks indoors and outdoors

A sliver of help may be on the way for the relentless coronavirus testing issues hampering efforts to slow a U.S. death toll inching toward 170,000.




USATODAY.com - Published





With Old Allies Turning Against Her, Birx Presses On Against the Coronavirus

Dr. Deborah L. Birx, the White House coronavirus response coordinator, has found herself a woman without a country, denounced by Democrats and called "pathetic" by the president.




NYTimes.com - Published





Coronavirus live updates: Dr. Deborah Birx warns of 'different' outbreak; Navajo Nation nears 500 deaths

The Department of Labor releases its latest jobless claims figures Thursday. Congress anticipates relief package by week's end. Latest COVID-19 news.




USATODAY.com - Published




Trump and Birx praise Arizona as new national model for battling coronavirus pandemic

Throughout Gov. Doug Ducey Wednesday visit to Washington, D.C., senior officials held up Arizona as a leader in COVID-19 containment measures.




USATODAY.com - Published





Covid 19 coronavirus: US turns on another expert, Deborah Birx, led by Nancy Pelosi

The United States appears to be turning on another of its top coronavirus experts as it approaches five million infections and 160,000 deaths.For months, supporters of President Donald Trump, a..




New Zealand Herald - Published





Trump claims coronavirus is "receding," despite surge in cases

A day after Coronavirus Task Force coordinator Dr. Deborah Birx said the coronavirus is now "extraordinarily widespread," President Trump contradicted her, claiming "evidence of progress." "Very..




CBS News - Published





Trump criticizes Dr. Birx after she issues dire coronavirus warning

President Trump lashed out at Coronavirus Task Force coordinator Dr. Deborah Birx after she said the U.S. had entered a dangerous new phase of the pandemic. Mr. Trump called her warning "pathetic."..




CBS News - Published





Behind the Trump administration's mixed messaging on coronavirus

President Trump attacked White House coronavirus task force member Dr. Deborah Birx after she the country entered a new and "widespread" phase of the pandemic. Politico White House correspondent Anita..




CBS News - Published





Deborah Birx slammed by both Trump, Pelosi in her role as White House coronavirus coordinator

Pelosi told CNN Monday she didn't have "any confidence" in Birx, saying she has "enabled" Trump and not done enough to correct faulty medical claims.




USATODAY.com - Published





Dr. Birx says coronavirus is "extraordinarily widespread" in rural areas

"To everybody who lives in a rural area, you are not immune or protected from this virus," she said.




CBS News - Published





Coronavirus Live Updates

Dr. Deborah L. Birx said the U.S. had entered a "new phase" in the fight against the virus, and urged people to consider wearing masks at home. With a focus on the coronavirus, other deadly..




NYTimes.com - Published





Coronavirus updates: Birx warns rural US; GOP Michigan lawmaker opposed to Whitmer's restrictions has COVID; stimulus negotiations resume

Dr. Birx warns about 'extraordinarily widespread' coronavirus pandemic. Pro athletes opt out of season. Las Vegas' Electric Daisy Carnival postponed.




USATODAY.com - Published




US entering 'different' phase of coronavirus outbreak

Top medical adviser Deborah Birx says the virus is affecting rural communities as well as cities.




BBC News - Published





Nancy Pelosi Says She's Lost Confidence In Deborah Birx For Allowing Donald Trump To Spread Disinformation

Nancy Pelosi says she has lost confidence in top White House expert Dr. Deborah Birx, saying the coordinator of the coronavirus task force has allowed Donald...




WorldNews - Published





Birx Says U.S. Coronavirus Epidemic Is in a New Phase

She and other top health officials in the Trump administration warn states of a deepening spread of the coronavirus, in both rural and urban areas.




NYTimes.com - Published





Coronavirus: Nancy Pelosi criticises Deborah Birx

Nancy Pelosi links the White House task force co-ordinator to "disinformation" spread by Donald Trump.




BBC News - Published





Coronavirus Live Updates: Birx Urges Bar Closures and Limits on Gatherings

Dr. Deborah L. Birx, the Trump administration's coronavirus response coordinator, said several states needed to take action. Vietnam will evacuate tourists after its first cases in months.




NYTimes.com - Published





Schools, US virus surge are focus of WH Task Force

Vice President Mike Pence says the CDC will be issuing new guidance for the reopening of schools in the fall. Dr. Deborah Birx is urging residents in the southern US who are in the midst of a surge to..




USATODAY.com - Published





Birx offers Memorial Day weekend virus guidance

Dr. Deborah Birx is offering Americans guidance on how they can enjoy the Memorial Day weekend, the traditional kickoff to summer. She urges people to enjoy the outdoors, but remain mindful of the..




USATODAY.com - Published





Dr. Deborah Birx wins praise for managing the White House's coronavirus message and Trump

Deborah Birx has maintained her composure, and sometimes corrected President Trump, without triggering the wrath of the president or his supporters.




USATODAY.com - Published





Anthony Fauci, Deborah Birx wear masks, Trump doesn't in address on coronavirus vaccines

Trump did not wear a mask during a press conference on the plan for a coronavirus vaccine. Birx and Fauci did.




USATODAY.com - Published





Deborah Birx, White House coronavirus response coordinator

Dr. Deborah Birx has been a key public health advisor for the administration's coronavirus response.  




USATODAY.com - Published





White House's Birx to take key role in coronavirus drug distribution

U.S. coronavirus task force response coordinator Dr. Deborah Birx will have a leading role in how the first drug to demonstrate a benefit in treating COVID-19 patients will be distributed to hospitals,..




Reuters - Published





Fauci, Birx will keep roles on coronavirus task force: Trump

U.S. top infectious disease doctor Anthony Fauci and coronavirus task force coordinator Deborah Birx will continue to hold their positions on the coronavirus task force moving forward, U.S. President..




Reuters - Published





White House May Disband Coronavirus Task Force By End of Month, Pence Says

The White House may disband its coronavirus task force by late May or early June, Vice President Mike Pence told reporters on Tuesday. Though Pence said the discussions were still preliminary, he said..




WorldNews - Published





'Devastatingly worrisome': Dr. Deborah Birx decries scenes of protesters not practicing social distancing amid coronavirus

Dr. Deborah Birx warned that protesters who carry an infection home to their grandmother or grandfather would feel guilty for the rest of their lives.




USATODAY.com - Published





A scarf a day turns Dr. Birx into pop culture star at COVID-19 daily briefings

U.S. coronavirus task force coordinator Dr. Deborah Birx is best-known for her calm, authoritative briefings at the daily White House press conferences. But she has also become a pop culture phenomenon..




Reuters - Published





White House issues revised transcript to show Birx said sunlight not a treatment for coronavirus

A transcript the White House released Thursday evening had originally referenced Birx as saying "That is a treatment."




USATODAY.com - Published





Trump Asks if Sunlight Can Kill Viruses. 'Not as a Treatment,' Birx Says.

At a briefing, the president promoted unproven treatments and asked Dr. Deborah Birx if she had heard of the success of sunlight as a tool against viruses.




NYTimes.com - Published





Dr. Anthony Fauci: There are 'good signs' in US battle against coronavirus, but we're far from 'claiming victory'

Drs. Anthony Fauci and Deborah Birx say there are encouraging signs after weeks of mitigation, but stress the U.S. is far from a coronavirus victory.




USATODAY.com - Published




Dr. Deborah Birx warns hotspots will see a spike in coronavirus deaths over next 6-7 days

"They are predicting in those three hotspots, all of them hitting together in the next six to seven days," Dr. Deborah Birx said.




USATODAY.com - Published





Do social distancing better, White House doctor tells Americans. Trump objects

Dr. Deborah Birx, the coordinator of the White House task force on the coronavirus, had a message for Americans on Thursday: do better at social distancing. President Donald Trump didn't like the..




Reuters - Published




Coronavirus Death Toll May Reach 100,000 to 240,000 in U.S., Officials Say

Dr. Anthony S. Fauci, the nation's leading infectious disease expert, and Dr. Deborah L. Birx, who is coordinating the response, called it "our real number" but pledged to try to reduce it.




NYTimes.com - Published





White House projects 100K to 240K U.S. deaths from virus

President Donald Trump on Tuesday warned Americans to brace for a "rough two-week period" ahead as the White House released new projections that there could be 100,000 to 240,000 deaths in the U.S...




WorldNews - Published





Coronavirus: Trump admits 100,000 deaths could be 'very low number'

Donald Trump and his public health team, in a somber White House briefing, warned as many as 200,000 people in America could die from coronavirus. After two senior administration officials helping lead..




WorldNews - Published





For Dr. Deborah Birx, Urging Calm Has Come With Heavy Criticism

The White House's coronavirus response coordinator drew criticism for comments she made about a lack of ventilator shortages, and for gushing praise of President Trump.




NYTimes.com - Published





Did Federal Officials Really Question W.H.O. Tests for Coronavirus?

Dr. Deborah Birx said she did not mean to suggest the widely used diagnostic tests generated frequent false-positive results.




NYTimes.com - Published





Top Coronavirus Official for U.S. Has Fought an Epidemic Before

Dr. Deborah Birx was appointed by President Barack Obama in 2014 to lead the government's fight against the global AIDS epidemic. Now she is coordinating the response to the coronavirus.




NYTimes.com - Published