Carles Puigdemont
Politician from Catalonia, Spain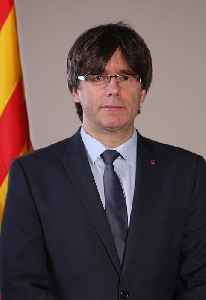 Carles Puigdemont i Casamajó is a Catalan pro-independence politician and journalist from Spain, currently living in Belgium. A former Mayor of Girona, Puigdemont served as President of the Government of Catalonia from January 2016 to October 2017 when he was removed from office by the Spanish Government following the unilateral Catalan declaration of independence. He is chair of the Catalan European Democratic Party (PDeCAT) and leader of the Junts per Catalunya (JuntsxCat) electoral alliance.


Legislators' protests mar formal opening of European Parliament
Legislators from right-wing parties, Brexiteers and Catalan independence backers have disrupted the formal opening session of the European Parliament. Some refused to stand as a jazz ensemble started..
WorldNews - Published
Catalonia's Puigdemont urges Pedro Sanchez to be open to dialogue
WATERLOO, Belgium (Reuters) - Catalonia's former separatist leader Carles Puigdemont on Tuesday urged Pedro Sanchez, the winner of Spain's parliamentary election last month, to be open to dialogue with..
WorldNews - Published
Also reported by •Reuters
Catalan ex-leader Puigdemont can run in EU elections - court
Spanish judges say the Catalan independence leader and two allies can seek to become MEPs.
BBC News - Published
Also reported by •Firstpost •Reuters
Spanish court rules Catalan ex-leader can stand in European vote
MADRID: A Madrid court ruled on Monday that former Catalan leader Carles Puigdemont, who fled to Belgium in 2017 to escape arrest for his role in an independence referendum, could run in the European..
WorldNews - Published
Also reported by •Reuters
Catalan leader re-applying for entry to Canada after travel permit mix-up
If all goes well, Carles Puigdemont will be in Quebec for a visit, spearheaded by nationalist group Société Saint-Jean-Baptiste, from June 10 to 14. ......
WorldNews - Published
Spain bars exiled ex-Catalan leader from European election
Spain's electoral commission barred former Catalan leader Carles Puigdemont from running in the European Parliament elections in May, he said on Monday, a day after a general election where the..
Reuters - Published
Puigdemont, 2 other Catalans can't run in European elections
FILE - In this Feb. 18, 2019 file photo, Catalonia's former regional president. Carles Puigdemont, addresses a conference in Brussels. Spanish political party officials said on Monday, April 29, 2019,..
WorldNews - Published
Catalonia's ex-president Carles Puigdemont on life 'on the run'
Carles Puigdemont, the ex-president of the Spanish region of Catalonia, spoke to the BBC about life in self-imposed exile
BBC News - Published
You Might Like