Édouard Philippe
Prime Minister of France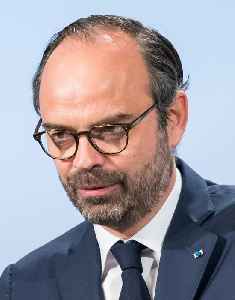 Édouard Charles Philippe is a French politician serving as Prime Minister of France since 15 May 2017 under President Emmanuel Macron.


Notre-Dame fire: Temporary wooden cathedral proposed
The spire, which was added to the cathedral during a 19th Century restoration project led by French architect Eugene Viollet-le-Duc, was completely destroyed when the fire took hold on Monday. Prime..
WorldNews - Published
France to hold international competition for redesign of Notre Dame's iconic spire
French prime minister Edouard Philippe said officials will consider whether a new spire should replicate the one that fell or have its a new design.
USATODAY.com - Published
Also reported by •Reuters
Notre Dame fire: Global contest launched to design new spire for blaze-hit cathedral
Edouard Philippe, the country's prime minister, announced the contest on Thursday and called for "a new spire that is adapted to the techniques and the challenges of our era".
Credit: euronews (in English) Duration: 03:58Published
'Need to quickly reduce taxes' one of key takeaways from French Great National Debate
French Prime Minister Edouard Philippe said he recognised the need to "quickly reduce taxes" in a presentation of the Great National Debate takeaways.
Credit: euronews (in English) Duration: 02:43Published
French unions stage day of strikes at Macron policies
French unions took to the streets on Tuesday to protest against President Macron's economic policies. As Francis Maguire reports, the demonstrations ramp up pressure on Macron who is also dealing after..
Credit: Reuters Studio Duration: 01:51Published
France Bans Some Yellow Vest Protests After Riot
​France's prime minister said protesters will no longer be able to organize in "the most impacted" neighborhoods in ​​Paris, Bordeaux and Toulouse.
Credit: Newsy Studio Duration: 01:11Published
French Prime Minister Plans Security Changes After More Rioting
Reuters reports France's prime minister Edouard Philippe is set to present plans on Monday to crack down on rioters following a new bout of violence linked to the yellow vest protest movement...
Credit: Wochit News Duration: 00:51Published
France announces global architects' competition to rebuild Notre Dame Cathedral
PARIS — The French prime minister has announced an international architects' competition to rebuild the spire of Notre Dame Cathedral. Edouard Philippe will speak following a special Cabinet..
WorldNews - Published
France launches global contest to rebuild Notre-Dame spire
France will invite architects from around the world to submit designs for rebuilding the spire of Notre-Dame cathedral that was destroyed in a devastating blaze, Prime Minister Edouard Philippe said..
France 24 - Published
Search this site and the web:
You Might Like