Sergey Lavrov
Russian diplomat and politician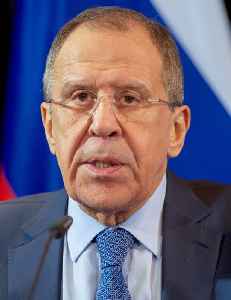 Sergey Viktorovich Lavrov is a Russian diplomat and politician. In office since 2004, he is the Foreign Minister of Russia. Previously, he was the Russian Representative to the UN, serving in the role from 1994 to 2004.


India and China walk back from border standoff

China and India said on Friday they had agreed to de-escalate renewed tensions on their contested Himalayan border and take steps to restore "peace and tranquility" following a high-level diplomatic..
Credit: Reuters - Politics Duration: 01:19
Published
Russia FM accuses foreign forces of Belarus meddling

Sergey Lavrov said activists from Ukraine are trying to create violent protests, but did not provide evidence of that.
Credit: Al Jazeera STUDIO Duration: 02:39
Published
You Might Like



The conflict we can't ignore

(CNN)While the world is preoccupied with the Covid-19 pandemic, the regional conflict in the remote separatist enclave of Nagorno-Karabakh is threatening to escalate into a wider war on the doorsteps..




WorldNews - Published





Russia Sees 'No Prospects' For Extending Nuclear Pact With U.S.

Russian Foreign Minister Sergei Lavrov says Moscow doesn't see any prospects for extending the New START arms-control treaty with the United States, though it plans to carry on with negotiations on the..




WorldNews - Published





Russia threatens to halt dialogue with EU amid Navalny spat

MOSCOW (AP) — Russia's foreign minister warned Tuesday that Moscow could freeze its contacts with the European Union in response to its sanctions over the poisoning of Russian opposition leader..




WorldNews - Published





Armenia, Azerbaijan agree ceasefire, start of 'substantive' talks

Armenia and Azerbaijan agreed on Saturday to a ceasefire and to begin "substantive talks" over the breakaway region of Nagorno-Karabakh after nearly two weeks of fierce clashes. Bitter fighting in..




WorldNews - Published





Lavrov: Russia Ready to Help Ease Turkey-Greece Tension

NICOSIA — Russia's foreign minister said Tuesday that Moscow is ready to help ease rising tensions over Turkey's search for energy reserves in the eastern Mediterranean. Sergey Lavrov said Moscow is..




WorldNews - Published





Russian PM to visit Belarus on Thursday amid political crisis

MOSCOW (Reuters) - Russian Prime Minister Mikhail Mishustin will visit Belarus for talks on Thursday, Foreign Minister Sergei Lavrov said, as Belarusian leader Alexander Lukashenko faces the biggest..




WorldNews - Published





US attempts to re-impose sanctions on Iran doomed to failure: Russia's Lavrov

Russian Foreign Minister Sergei Lavrov has once again taken a jab at the United States' attempts to re-instate sanctions on Iran in violation of a multilateral 2015 nuclear...




WorldNews - Published





How Russia outplayed the US with Turkey in Syria

In the last days of August a delegation from the Syrian Democratic Council arrived in Moscow for meetings. The group is linked to the Kurdish leadership of eastern Syria. Russian officials and the SDC..




WorldNews - Published





Moscow Again Urges Baku, Yerevan to Observe Ceasefire

YEREVAN (Azatutyun.am)—Russian Foreign Minister Sergey Lavrov on Wednesday urged Armenia and Azerbaijan to prevent further ceasefire violations, saying that is essential for kick-starting the..




WorldNews - Published





Lavrov Blames 'Unresolved' Karabakh Conflict for July Tensions

Russian Foreign Minister Sergei Lavrov blamed a "whole host of reasons," primarily the "unresolved" Nagorno-Karabakh conflict for the resumption of tensions last month between Armenia and..




WorldNews - Published





Russia: Moscow and Ankara working on Libya ceasefire

Russia and Turkey are working on an immediate ceasefire agreement for the conflict in Libya, Russian Foreign Minister Sergei Lavrov was quoted as saying on Wednesday by the Interfax news agency. Mr..




WorldNews - Published





Russia rules out mediating between India and China

Russia on Tuesday ruled out mediating between India and China following the violent clashes in the Galwan Valley, saying the two nations do not need any kind of assistance to resolve their..




IndiaTimes - Published





Moscow urges U.S. to help reach Libya ceasefire: RIA

Russian Foreign Minister Sergei Lavrov said on Wednesday that Moscow would welcome efforts by Washington to use its influence to help reach a ceasefire in Libya, the RIA news agency reported.




Reuters - Published





Russian ministers to visit Turkey for talks on Sunday

Russian Foreign Minister Sergei Lavrov and Defence Minister Sergei Shoigu will visit Turkey on Sunday for talks, the two countries' foreign ministries said on Saturday, with media reports saying..




Reuters - Published





Rivals Russia and Turkey both support a Libya peace process, Moscow says

Russian Foreign Minister Sergei Lavrov and his Turkish counterpart Mevlut Cavusoglu on Monday agreed on the need to collaborate to create the conditions for a peace process in Libya, Russia's foreign..




Reuters - Published





Russia says its prisoners in Libya main obstacle to bilateral cooperation: minister

Russian Foreign Minister Sergei Lavrov said on Wednesday that the presence of Russian prisoners in the Libyan capital of Tripoli was the main obstacle to cooperation between the countries.




Reuters - Published





Russia says Hong Kong security law is China's domestic affair

Russian Foreign Minister Sergei Lavrov says the new security law that has been proposed by China and that is set to apply to Hong Kong is China's domestic affair and the United States should not be..




WorldNews - Published





Russia tells Haftar ally it backs immediate Libyan ceasefire and talks

Russian Foreign Minister Sergei Lavrov on Tuesday told an ally of Libya's eastern commander Khalifa Haftar that Moscow backed an immediate ceasefire and political talks that would culminate in united..




Reuters - Published





Russian, Turkish foreign ministers back Libya ceasefire in call: Moscow

Russian Foreign Minister Sergei Lavrov and Turkish Foreign Minister Mevlut Cavusoglu backed an immediate ceasefire in Libya during a phone call on Thursday, Russia's Foreign Ministry said in a..




Reuters - Published





Lavrov writes Zarif, says illegal sanctions hampers coronavirus fight

TEHRAN – In a letter to Foreign Minister Mohammad Javad Zarif on Thursday, Russian Foreign Minister Sergei Lavrov has said that the United States' "illegal sanctions" against Iran hamper fight..




WorldNews - Published





Russia's Lavrov, UK's Raab agree on need to improve cooperation

Russian Foreign Minister Sergei Lavrov and his British counterpart Dominic Raab discussed relations between Moscow and London and voiced intention to improve cooperations, the Russian foreign ministry..




Reuters - Published





U.S.'s Pompeo, Russia's Lavrov discussed arms control issues: U.S. State Department

U.S. Secretary of State Mike Pompeo discussed the next steps on arms control issues in a call with his Russian counterpart on Wednesday, the U.S. State Department said in a statement but gave no other..




Reuters - Published





Russia disapproves of Haftar's power grab in Libya: Ifax cites foreign minister

Russian Foreign Minister Sergei Lavrov said on Tuesday that Moscow did not approve of Libya's eastern-based military leader Khalifa Haftar's move to seize control of the country, the Interfax news..




Reuters - Published





Russia says U.N. security council members agreed to hold online summit

Russia's foreign minister Sergei Lavrov said on Monday that other permanent members of the United Nations Security Council have agreed to hold an online five-way summit, proposed by Russian President..




Reuters - Published





Russia's Lavrov, U.S. Pompeo discuss oil markets, coronavirus: statement

Russian foreign minister Sergei Lavrov and U.S. Secretary of State Mike Pompeo agreed on a call on Friday to continue coordinating efforts to overcome the crisis in oil markets and the challenges posed..




Reuters - Published





Russia says world powers have agreed to hold five-way summit, date to be agreed: RIA

The five permanent members of the United Nations Security Council have agreed to hold a summit, but the date and agenda are still under discussion, the RIA news agency cited Russian Foreign Minister..




Reuters - Published





Russia says it's ready for hypersonic missile talks with U.S.

Russia is ready to discuss hypersonic missiles and other arms control issues with the United States as part of wider discussions about strategic stability, Foreign Minister Sergei Lavrov said on..




Reuters - Published





Russia ready to discuss hypersonic missiles with U.S.: RIA cites foreign minister

Russia is ready to discuss hypersonic missiles with the United States in the context of strategic stability, the RIA news agency cited Foreign Minister Sergei Lavrov as saying on Tuesday.




Reuters - Published





Putin, Erdogan agree on security corridor for Syria's Idlib: Lavrov

Russian President Vladimir Putin and Turkish President Tayyip Erdogan agreed on Thursday to set up a security corridor for Syria's Idlib province, Foreign Minister Sergei Lavrov told reporters in..




Reuters - Published




Trump accepted Putin's proposal to hold U.N. Security Council summit: Interfax cites Russia's Lavrov

U.S. President Donald Trump accepted Russian President Vladimir Putin's proposal to hold a meeting of the U.N Security Council's five permanent members, the Interfax news agency cited Russian Foreign..




Reuters - Published





Russia will not stop fighting terrorism to solve Europe's migration crisis: Lavrov

Russia will not stop fighting terrorism in Syria's Idlib region in order to solve Europe's migration crisis, Foreign Minister Sergei Lavrov said on Tuesday at a news conference alongside his Finnish..




Reuters - Published




Russian FM Lavrov In Finland For Talks On Coronavirus, Syria

Russian Foreign Minister Sergei Lavrov is on an official visit to Finland on March 3 where he will discuss the new coronavirus outbreak and Syrian conflict...




WorldNews - Published





Russia's Putin, Turkey's Erdogan discuss Syria by phone amid tensions

Russian President Vladimir Putin and Turkish President Tayyip Erdogan spoke by phone on Friday to discuss the implementation of agreements on Syria's Idlib province amid mounting tension, Foreign..




Reuters - Published





Russia, Turkey preparing talks on fighting in Syria's Idlib province: TASS

Russia and Turkey are preparing talks on how to de-escalate fighting in Syria's Idlib province, TASS news agency reported on Monday, citing Russian Foreign Minister Sergei Lavrov.




Reuters - Published





Russia's Lavrov, after Pompeo meeting, says felt more constructive U.S. approach

Russian Foreign Minister Sergei Lavrov said on Monday after meeting U.S. Secretary of State Mike Pompeo last week that he had felt a more constructive approach from Washington when it came to the..




Reuters - Published




Russia and Turkey are close but will disagree, Lavrov says

Russia has good ties with Turkey but will sometimes disagree, Russia's Foreign Minister Sergei Lavrov said on Saturday.




Reuters - Published





Russian, Turkish foreign ministers to meet on Sunday amid Syria tensions: Ifax

Russian Foreign Minister Sergei Lavrov will meet his Turkish counterpart Mevlut Cavusoglu in Munich on Sunday on the sidelines of the Munich Security Conference, the Interfax news agency reported on..




Reuters - Published





Lavrov calls for dialogue in Venezuela

Lavrov calls for dialogue in Venezuela  




USATODAY.com - Published





Russian Foreign Minister Lavrov hits out at U.S. 'provocations' in Venezuela

By Marianna Parraga MEXICO CITY (Reuters) - Russian Foreign Minister Sergei Lavrov on Thursday denounced U.S. foreign policy in Venezuela, criticizing U.S. "provocations" and attempts to create what he..




WorldNews - Published

Also reported by •Reuters


Mexico in talks with Russia to buy new batch of military helicopters: foreign minister

Russian Foreign Minister Sergei Lavrov on Thursday said Mexico was in talks to buy a batch of Russian-made military helicopters.




Reuters - Published





Russian foreign minister says efforts to remove Venezuela's Maduro not 'useful'

Russian Foreign Minister Sergei Lavrov during a visit to Mexico City on Thursday criticized attempts to remove Venezuelan President Nicolas Maduro as not "useful" and denounced U.S. foreign policy in..




Reuters - Published





Russia sends Lavrov to Venezuela to 'counteract' U.S. sanctions

Russian Foreign Minister Sergei Lavrov will visit Venezuela on Friday in a show of support for President Nicolas Maduro, a socialist who Washington wants out of power.




Reuters - Published





Russian defense and foreign ministers keep posts in Putin shake-up: Kremlin

Russian Defence Minister Sergei Shoigu and Foreign Minister Sergei Lavrov kept their posts in a government shake-up unveiled on Tuesday, the Kremlin said.




Reuters - Published





Russia says Iran shot down passenger plane after US jets sent to its borders

Iran shot down a commercial plane, killing all 176 crew and passengers, because it was spooked by "six F-35 US fighter jets" near its borders, Russia's top diplomat told The Independent on..




WorldNews - Published





Russia: Iran was spooked by reports of U.S. F-35s when it downed airliner

Russian Foreign Minister Sergei Lavrov said on Friday that Iran's accidental shooting down of a Ukrainian airliner last week occurred at a time when Tehran was spooked by reports of advanced U.S...




Reuters - Published





Russia says urging Gulf nations to consider a joint security mechanism

Russia's Foreign Minister Sergey Lavrov said on Wednesday that Moscow has been urging Gulf countries to consider a common security mechanism for the region.




Reuters - Published





Certain progress made in Libya talks in Moscow: Lavrov

Fighters of UN-backed government forces observe the eastern-based army in Southern Tripoli, Libya, on Jan. 12, 2020. [Photo/Xinhua] Certain progress has been made in the talks on Libyan settlement in..




WorldNews - Published





Libya talks in Moscow progress but fail to get ceasefire deal: Russian foreign minister

Talks aimed at agreeing an unconditional and open-ended ceasefire in Libya failed to achieve a breakthrough on Monday despite making good progress, Russian Foreign Minister Sergei Lavrov told..




Reuters - Published




17 countries to attend Raisina Dialogue this week

External affairs minister S Jaishankar will play host to 17 ministers from across the world-from Russia and Iran to Latvia- here at the Raisina Dialogue. He is expected to hold bilateral meetings with..




IndiaTimes - Published