United States Department of Commerce
Government agency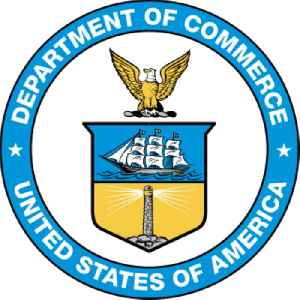 The United States Department of Commerce is the Cabinet department of the United States government concerned with promoting economic growth. Among its tasks are gathering economic and demographic data for business and government decision-making, and helping to set industrial standards. This organization's main purpose is to create jobs, promote economic growth, encourage sustainable development and improve standards of living for all Americans. The Department of Commerce headquarters is the Herbert C. Hoover Building in Washington, D.C.


Huawei could be stripped of Google services, but only on new smartphones
Huawei could lose its grip on the No. 2 ranking in worldwide cellphone sales after Google announced it would comply with US government restrictions meant to punish the Chinese tech powerhouse. Google..
WorldNews - Published
Lumentum says halting all Huawei shipments, cuts quarterly forecast
Mobile phone parts producer Lumentum Holdings Inc on Monday was the first U.S. company to confirm formally it was halting shipments to Huawei Technologies, following export restrictions put in place by..
Reuters - Published
U.S. Puts China's Huawei, 70 Affiliates On Trade Blacklist
According to a report by Reuters, on Wednesday, the US Commerce Department said that it is adding Huawei Technologies and 70 of its affiliates to a so-called "Entity List," a move likly to make it..
Credit: Wochit News Duration: 00:40Published
Trump could sign a new Huawei ban: sources
President Donald Trump is expected to sign an executive order this week barring U.S. companies from using telecommunications equipment made by firms posing a national security risk, paving the way for..
Credit: Reuters Studio Duration: 01:41Published
Retail sales rebound in March
Retail sales in the U.S. rose by the most in 1-1/2 years in March, indicating economic growth picked up in the first quarter after a false start. Fred Katayama reports.
Credit: Reuters Studio Duration: 01:07Published
Trump unveils big 5G push
U.S. President Donald Trump held a White House event on Friday with the country's top communications regulator on next-generation 5G wireless networks. Rough Cut (no reporter narration).
Credit: Reuters Studio Duration: 01:37Published
Growing Sales For Amazon, Etc. Could Lead To Stores Closing
UBS suggests if a trend in online retail sales continues to increase, 75,000 U.S. stores may need to close.
Credit: Newsy Studio Duration: 01:06Published
MIT Suspends Ties With Huawei, ZTE Over US Investigations
The Institute said it's ​cutting ties "due to federal investigations regarding violations of sanction restrictions."
Credit: Newsy Studio Duration: 01:04Published
U.S. GDP revised sharply down
The U.S. economy slowed more than initially thought in the fourth quarter. As Fred Katayama reports, annual growth missed the Trump administration's target.
Credit: Reuters Studio Duration: 01:29Published
Exclusive: U.S. may scale back Huawei trade restrictions to help existing customers
The U.S. Commerce Department said on Friday it may soon scale back restrictions on Huawei Technologies after this week's blacklisting would have made it nearly impossible for the Chinese company to..
Reuters - Published
Search this site and the web:
You Might Like