United States Department of Commerce
United States federal government executive department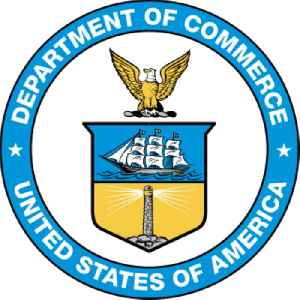 In the United States, the Department of Commerce is an executive department of the federal government concerned with promoting economic growth. Among its tasks are gathering economic and demographic data for business and government decision-making, and helping to set industrial standards. This organization's main purpose is to create jobs, promote economic growth, encourage sustainable development and block harmful trade practices of other nations. The Department of Commerce headquarters is the Herbert C. Hoover Building in Washington, DC. Wilbur Ross is the current Commerce secretary.


Trump to Block TikTok, WeChat App Downloads Starting Sunday

The Trump administration's Commerce Department announced it would ban the apps on Friday.
Credit: Cover Video STUDIO Duration: 01:04
Published
TikTok avoids shutdown

[NFA] U.S. President Donald Trump said on Saturday he supported a deal in principle that would allow TikTok to continue to operate in the United States, even as it appeared to conflict with his earlier..
Credit: Reuters - Politics Duration: 01:40
Published
TikTok Files Complaint Against Trump Administration

Although the clock is ticking, pardon the pun, TikTok is not going down without a fight. Per Bloomberg and Reuters, the video-sharing app and its Chinese parent company, Bytedance, filed a complaint in..
Credit: Wochit News Duration: 00:32
Published
Trump to block TikTok, WeChat downloads Sunday

The Trump administration will ban WeChat and video-sharing app TikTok from U.S. app stores starting Sunday night, a move that will block Americans from downloading the Chinese-owned platforms over..
Credit: Reuters - Politics Duration: 01:12
Published
You Might Like



TikTok chief security officer says its servers are already separate from ByteDance

Illustration by Alex Castro / The Verge TikTok's chief security officer says in new court documents that the US Commerce Department has mischaracterized how the app stores and secures user data,..




The Verge - Published





US tightens trade restrictions on Chinese chipmaker SMIC

Illustration by Alex Castro / The Verge The US Commerce Department has added China's largest chipmaker, Semiconductor Manufacturing International Corporation (SMIC), to its entity list, after it..




The Verge - Published





Judge says US must defend or delay TikTok app store ban by Friday

WASHINGTON: A US judge said Thursday the Trump administration must either delay a ban on US app stores offering TikTok for download or file legal papers defending the decision by Friday. The US..




WorldNews - Published





Decision to speed up 2020 census not made by Census Bureau, internal report says

The Department of Commerce's inspector general warned the shortened schedule "increases the risks to the accuracy of the 2020 Census."




CBS News - Published





TikTok and WeChat both managed to avoid their Sunday bans

Illustration by Alex Castro / The Verge On Friday, it looked like the US was ready to ban new downloads of TikTok and WeChat, two popular China-based apps that the Trump administration warned posed..




The Verge - Published





Judge blocks US ban on WeChat that was set to go into effect today

Illustration by Alex Castro / The Verge A judge in California has blocked the Commerce Department's ban on new downloads of China-based messaging app WeChat, Reuters reported Sunday. US Magistrate..




The Verge - Published





Trump gives "blessing" to U.S. TikTok partnership

The president's support for a deal comes just a day after the Commerce Department announced restrictions could eventually make it nearly impossible for Americans to use the app.




CBS News - Published





President Trump says he approves of Oracle's bid for TikTok 'in concept'

Photo by Ethan Miller / Getty Images President Trump says he has approved "in concept" Oracle's bid for TikTok, less than a day before a de facto ban he threatened in August was set to go into..




The Verge - Published





TikTok files last-minute lawsuit against Trump administration to stave off looming ban

Illustration by Alex Castro / The Verge TikTok and parent company ByteDance filed a lawsuit late Friday against the Trump administration to try to fend off a ban on new downloads of the app set to..




The Verge - Published





WeChat and TikTok see US downloads climb ahead of Trump administration ban

Illustration by Alex Castro / The Verge Messaging app WeChat had its biggest one-day download numbers in nearly two years on Friday, ahead of a ban on new downloads from the US Commerce Department..




The Verge - Published





Trump administration to ban TikTok and WeChat from U.S. app stores

The Trump administration announced popular social media apps TikTok and WeChat must be removed from U.S. app stores beginning Sunday. President Trump and the Commerce Department have cited concerns..




CBS News - Published





US bans WeChat, TikTok from app stores, threatens shutdowns

The U.S. Commerce Department said Friday it will ban Chinese-owned TikTok and WeChat from U.S. app stores on Sunday and will bar the apps from accessing essential internet services in the U.S. — a..




New Zealand Herald - Published





TikTok CEO asks Instagram, Facebook to help fight TikTok ban

Illustration by Alex Castro / The Verge TikTok's interim CEO, Vanessa Pappas, is asking Facebook and Instagram to "publicly join our challenge and support our litigation," as TikTok faces a..




The Verge - Published





Trump's TikTok ban is a gross abuse of power

Photo by Alex Wong / Getty Images Update: This piece was originally published on August 11th and has been updated to reflect the official commerce order banning transactions with ByteDance. On..




The Verge - Published





Trump to ban US TikTok and WeChat app store downloads on September 20th

Illustration by Alex Castro / The Verge The US Commerce Department has issued a new order to block people in the US from downloading the popular video-sharing app TikTok as of September 20th,..




The Verge - Published





Commerce Department bans use of TikTok and WeChat in U.S.

Order seeks to "combat China's malicious collection of American citizens' personal data," Commerce Secretary says.




CBS News - Published





US government: Upcoming WeChat 'ban' won't target its users

A looming US ban on the Chinese app WeChat won't target people who use the app to communicate, according to a government court filing. President Donald Trump issued orders on August 6 that targeted..




WorldNews - Published





The US is making it even harder for Huawei phones to get Android updates

Illustration by William Joel / The Verge The Trump administration is further tightening restrictions on Chinese phone manufacturer Huawei, making it more difficult for the company to get chips for..




The Verge - Published





Inquiry Prompted by Trump's Hurricane Dorian Claim Is Being Blocked, Investigator Says

The Commerce Department is impeding findings into whether it coerced the top NOAA official to support President Trump's inaccurate claim that Dorian would hit Alabama, the department's inspector..




NYTimes.com - Published





U.S. posts rule allowing U.S. companies to work with Huawei on 5G and other standards

The U.S. Department of Commerce on Tuesday posted a new rule that allows U.S. companies to work with China's Huawei to develop standards for 5G and other cutting-edge technologies, despite restrictions..




Reuters - Published




U.S. Delivers Another Blow to Huawei With New Tech Restrictions

New rules announced by the Commerce Department Friday morning threaten to inflict more pain on Huawei and upset an already rocky U.S.-China relationship. ......




WorldNews - Published





White House aide to take key U.S. Commerce Department post

A senior White House aide who has been involved with next-generation 5G networks and the global campaign against China's Huawei Technologies [HWT.UL] is moving to the Department of Commerce.




Reuters - Published





Chinese arrivals to U.S. plummet in February as coronavirus forces travel curbs

The number of travelers flying from China to the United States fell 84.1% in February from a year earlier, according to data from an agency of the U.S. Department of Commerce, as travel curbs were..




Reuters - Published





U.S. senator calls for action on forced labor in China's Xinjiang

A senior U.S. senator on Tuesday accused U.S. firms of willfully ignoring "horrific" forced labor conditions in China's Xinjiang region and called on the Commerce Department to stop American companies..




Reuters - Published




Senior U.S. Commerce official instrumental in pushing Huawei curbs to resign

A senior U.S. Commerce Department official who helped lead the administration's efforts to impose export restrictions on China's Huawei Technologies Co [HWT.UL] is resigning, Secretary Wilbur Ross said..




Reuters - Published




U.S. goods trade deficit widens as imports rebound

WASHINGTON — The U.S. goods trade deficit increased sharply in December as imports rebounded, offsetting a small rise in exports, but trade is still expected to have supported economic growth in the..




WorldNews - Published





Defying Congress, U.S. Commerce Department will not turn over auto import probe report

The Trump administration is snubbing Congress by refusing to turn over a report detailing an investigation into national security risks potentially posed by imported vehicles and auto parts, citing..




Reuters - Published




Trump's tariffs cost U.S. companies $46 billion to date, data shows

Tariffs imposed by President Donald Trump to restructure the United States's top trade relationships have cost American companies $46 billion since February 2018, and U.S. exports of goods hit by..




Reuters - Published





US new-home sales rose 1.3% in November.

WASHINGTON (AP) — U.S. sales of newly built homes increased 1.3% in November from the prior month, a sign that low mortgage rates are pushing up purchases as well as prices. The Commerce Department..




WorldNews - Published





U.S. has not ruled out imposing tariffs on imported autos: Commerce chief

U.S. Commerce Secretary Wilbur Ross said on Tuesday the Trump administration has not ruled out imposing tariffs on imported autos, after letting a review period end in November with no action.




Reuters - Published




Huawei urging suppliers to break the law by moving offshore: Ross

China's telecoms giant Huawei has been encouraging its suppliers to violate U.S. law by telling them to move operations offshore in a bid to avoid U.S. sanctions, Commerce Department Secretary Wilbur..




Reuters - Published





U.S. begins issuing some licenses for companies to supply goods to Huawei

The U.S. Commerce Department confirmed Wednesday it has begun issuing licenses for some U.S companies to supply non-sensitive goods to China's Huawei Technologies Co Ltd.




Reuters - Published





Trade commission finds Chinese mattress imports hurt U.S. industry

The U.S. International Trade Commission on Tuesday concluded that U.S. industry is materially injured by Chinese-made mattresses that are sold at less than fair value, paving the way for the U.S...




Reuters - Published





Trade commission finds U.S. industry injured by Chinese mattress imports

The U.S. International Trade Commission on Tuesday concluded that U.S. industry is materially injured by mattress imports from China that are sold at less than fair value, paving the way for the U.S...




Reuters - Published





Trump administration grants 90-day extension for US businesses to work with Huawei

After adding Huawei to an economic blacklist in May citing national security concerns, the U.S. Commerce Department allowed it to purchase some American-made goods in a series of 90-day license..




WorldNews - Published





U.S. adds companies to economic blacklist for providing WMD activity support in Syria

The U.S. Commerce Department on Wednesday added more than a dozen companies and individuals to its trade blacklist for allegedly providing material support to chemical and biological weapons activity..




Reuters - Published




U.S. Commerce Dept finds Chinese exporters dumped ceramic tile

The U.S. Commerce Department said on Thursday it made a preliminary determination that Chinese exporters had dumped ceramic tile in the U.S. market at less than fair value.




Reuters - Published




U.S. handling of tariffs raises appearance of 'improper influence': watchdog

Lack of transparency in the Commerce Department's handling of steel and aluminum tariffs raised the appearance that certain companies may have had "improper influence" in the process, its internal..




Reuters - Published





US Levies New Sanctions on Cuba Over Human Rights, Venezuela

The United States is imposing new sanctions on Cuba over its human rights record and its support for Venezuela's government, the U.S. Commerce Department said Friday. In a statement, the department..




WorldNews - Published

Also reported by •Reuters


US retail sales dip 0.3% in September

WASHINGTON (AP) — Retail sales dropped in September by the largest amount in seven months, possibly signaling that rising trade tensions and turbulent markets are having an impact on consumer..




WorldNews - Published





U.S. puts Hikvision, Chinese security bureaus on economic blacklist

The U.S. Commerce Department on Monday put 28 Chinese public security bureaus and companies - including video surveillance company Hikvision - on a U.S. trade blacklist over Beijing's treatment of..




Reuters - Published





U.S. sets preliminary duties of up to 222% on Chinese ceramic tile

The U.S. Commerce Department said on Tuesday that it found that imports of ceramic tile from China are unfairly subsidized and it imposed preliminary duties on them ranging from about 104% to 222%.




Reuters - Published





U.S. imposes duties on structural steel from China, Mexico

The U.S. Commerce Department said on Wednesday it imposed duties on Chinese and Mexican structural steel after making a preliminary determination that producers in both countries had dumped fabricated..




Reuters - Published





Mexico's government says U.S. duties on structural steel part of normal investigation

Mexico's government said on Wednesday that new duties imposed on some Mexican structural steel by the U.S. Commerce Department are part of a normal investigation when an industry feels it is being..




Reuters - Published