Hispanic and Latino Americans
Americans of ancestry from Spain and Latin America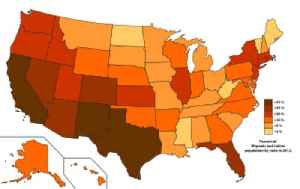 In the United States, Hispanic or Latino Americans are Americans who are descendants of people from Spain or Hispanic America, and, in some cases, from Portugal or Brazil. More generally, these demographics include all Americans who are referred to as Hispanic. As of 2018, the Census Bureau estimated that there were almost 60 million Hispanics living in the United States.


Young, undocumented, and getting out the vote

Twenty-four year-old Maria Jose Rodriguez's immigration status means she can't vote in November's election, but that hasn't stopped her from mobilizing and advocating in her community. Libby Hogan..
Credit: Reuters - Politics Duration: 02:41
Published
Biden In Trouble With Black Voters

The Biden campaign is in crisis mode. Dozens of Black luminaries sat for a virtual meeting, trying to figure out how the campaign could woo Black male voters. Politico reports that callers urged Biden..
Credit: Wochit News Duration: 00:33
Published
Biden makes a pitch to Florida Hispanic voters

Democrat Joe Biden courted Hispanic voters on Tuesday on his first campaign visit of the year to Florida, saying President Donald Trump had let them down with his divisive immigration policies and a..
Credit: Reuters - Politics Duration: 02:12
Published
Trump rallies Latino supporters in Arizona

President Donald Trump on Monday intensified his efforts to win over Latino voters as polls show their support increasingly up for grabs ahead of the November presidential election - a flashing warning..
Credit: Reuters Studio Duration: 01:39
Published
You Might Like



How Latino voters will impact the 2020 presidential election

Latino voters will make up a substantial demographic group in the 2020 presidential election. But that vote is far from a monolith, with age, location and heritage all playing a role. WNYC's Tanzina..




CBS News - Published





Presidential election in Florida may come down to Latino voters

Florida's Hispanic population features a diverse electorate, with many Cuban American voters who tend to back Republicans while most other Latino groups back Democrats. Stephanie Valencia of Equis..




CBS News - Published





Gloria and Emily Estefan urge Latinos to vote, have their voice heard

Gloria Estefan wants everyone to vote, but says it's even more important for Latinos "because it shows your power." (Oct. 22)  




USATODAY.com - Published





Why these Latinos are voting for Trump, despite his anti-immigrant attacks

They're in the minority, but these Hispanic voters say they like Trump's business skills and share his worries about criminal immigrants.




USATODAY.com - Published




Worked to death: Latino farmworkers have long been denied basic rights. COVID-19 showed how deadly racism could be.

Latinos were denied fair pay, leaving them vulnerable to COVID-19. In this six-part series, USA TODAY investigates how racism killed people of color.




USATODAY.com - Published




Poll shows Latino voters have confidence in Biden on key issues

A new poll from the Pew Research Center shows more than two-thirds of Latino voters have confidence in Joe Biden to handle key issues like the coronavirus, bringing the country together and foreign..




CBS News - Published





US election polls: Trump is doing better than ever with Latino voters

It was the man in the Stetson who was the most enthusiastic. Election Night in Miami, 2016, and the Hispanics for Trump party at the Las Vegas Cuban Cuisine restaurant in the Doral district was in full..




WorldNews - Published





Community College Enrollment Is Way Down

Like way, way down. That could harm millions of Black, Latino and low-income students who enter the higher education system through the system.




NYTimes.com - Published





Pence touts anti-socialism in Miami campaign stop

Vice President Mike Pence traveled to Florida on Thursday to rally Hispanic voters by highlighting President Donald Trump's record opposing socialist leaders across Latin America. (Oct. 15)  




USATODAY.com - Published





George Lopez just wants Latinos to vote, Edward James Olmos admits he's backing Biden

Latinos are a sought-after voting group for both major political parties, that's why presidential candidates have asked the famous Chicanos to help mobilize the Latino vote. (Oct. 15)  




USATODAY.com - Published





A majority of Latino voters favor Democrats, but Hispanic men are a small but enduring part of Trump's base.




NYTimes.com - Published




The Macho Appeal of Donald Trump

Though a majority of Latino voters favor Democrats, Hispanic men are a small but enduring part of Trump's base. Those supporters see him as forceful, unapologetic and a symbol of economic success.




NYTimes.com - Published





As Arizona, Texas and Georgia become less white, voter suppression could keep these states from turning blue

Fast-growing Black and Latino populations and more organizing by Democrats have turned Texas, Georgia and Arizona into potential battleground states.




USATODAY.com - Published




Biden courts Latino voters while campaigning in Nevada

With President Trump still in the White House, Joe Biden is picking up his campaign pace, this week stumping in four states, each a crucial battleground. Ed O'Keefe reports.




CBS News - Published





Latinos in Florida discuss impact of coronavirus

The Associated Press spoke with three Latino voters in Florida – an independent, a Democrat and a Republican – about key issues in the battleground state, including the impact of the coronavirus,..




USATODAY.com - Published




Climate change concerns Latinos in Florida

The Associated Press spoke with three Latino voters in Florida – an independent, a Democrat and a Republican – about key issues in the battleground state, including climate change, for the..




USATODAY.com - Published





Mario J. Aranda, Advocate for Immigrant Rights, Dies at 79

A Mormon, he spent decades as an advocate for Latinos in Chicago before making a break with his old life. He died of Covid-19.




NYTimes.com - Published





JPMorgan commits $30 billion to fighting racial inequity

Money will fund small-business loans, affordable housing, and homebuyer grants for Black and Latino communities.




CBS News - Published





Latino history museum fights for spot on the National Mall

"The National Mall is the frontline of our nation. It is where every story is told. To do anything less would dishonor 500 years of U.S. Latino history," said museum advocate Estuardo Rodriguez.




CBS News - Published





ShowBiz Minute: Van Halen, Hispanic Heritage Awards, Hemsworth

Stars pay tribute to late guitarist Eddie Van Halen; Hispanic Heritage Awards celebrate contemporary Latino artists; Chris Hemsworth and wife Elsa Pataky help release Tasmanian devils in wildlife..




USATODAY.com - Published





Hotter Days Widen Racial Gap in U.S. Schools, Data Shows

Higher temperatures are linked to worse test scores, but only for Black and Hispanic children. The likely culprit: a lack of air-conditioning.




NYTimes.com - Published





The Florida director of a pro-Trump Latino group is the chairman of the Proud Boys.




NYTimes.com - Published





How voting has changed in the Hispanic community and what Latinos are looking for from the 2020 candidates

CBS News contributor Maria Elena Salinas joined CBSN to give insight on how the Hispanic community in the U.S. has changed over her nearly 40-year career in journalism. She explains why not having..




CBS News - Published





Trump looks to court Latino voters in Florida

President Donald Trump blasted Joe Biden in Florida Friday for "betraying" the Hispanic community. Trump is trying to chip away at his Democratic rival's advantage with black and Hispanic voters during..




USATODAY.com - Published





Bad Bunny breaks social media silence to promote voting

Bad Bunny says he broke his social media silence for "important things" -- urging Puerto Ricans and other Latinos to vote in the Nov. 3 election. "We need to be respected as Latinos," he says. (Sept...




USATODAY.com - Published





Hispanic Heritage Month: When to use the terms Hispanic, Latino and Latinx

The word "Latinx" has popped up in recent years among scholars and activists in the Hispanic community. Filmmaker and journalist Andrew Padilla joined CBSN during Hispanic Heritage Month to explain..




CBS News - Published





Biden leads Trump among Latinos: Poll

Washington, Sep 21 : Democratic presidential nominee Joe Biden currently holds a sizable lead over President Donald Trump among Latino voters nationally, according to a new poll. The poll conducted..




WorldNews - Published




Biden goes viral after playing 'Despacito' at Florida campaign stop, as he tries to win Latino voters

The viral moment came as Biden, who is fighting to win over Latino voters, made his first campaign stop in the critical battleground state of Florida.




USATODAY.com - Published





Biden seeks support among Florida Latinos as state swamped by wild conspiracy theories

Democratic presidential nominee Joe Biden is lagging a bit with Latino voters in Florida compared to his margins in other states. Politico's Sabrina Rodriguez spoke to "Red and Blue" host Elaine..




CBS News - Published





Biden visits Florida to meet Latino voters

On Tuesday, Joe Biden made his first campaign trip to Florida to meet with military veterans and Latino voters. Ed O'Keefe reports.




CBS News - Published





US election 2020: Could Biden's Latino problem lose him the White House?

The push by Democrats to reach Florida's Hispanic voters may have come too late.




BBC News - Published





Nevada built a powerful Democratic machine. Will it work in a pandemic?

One example of how things have changed: A Latino outreach group estimated in January that it would register 21,000 new voters in the state by Labor Day. It's at around 6,000 now.




NYTimes.com - Published




Biden travels to Florida as the state and Latino voters take center stage.




NYTimes.com - Published





Biden makes first trip to Florida amid questions about Latino support

A poll released earlier this month showed Biden lagging behind Trump among likely Latino voters in Florida.




CBS News - Published





Biden is getting trounced with Cuban American voters in Florida, a trend that could tip the state to Trump

Biden is underperforming with Cuban Americans in Miami-Dade, the state's largest county, and with Latinos across Florida, according to recent polling.




USATODAY.com - Published





Trump courts Latino voters as Biden pledges to "work like the devil" to earn community's support

President Trump and his Democratic rival Joe Bien are targeting Latino voters in different ways, as the diverse community is expected to play a key role in battleground states in the 2020 presidential..




CBS News - Published





Trump campaign courts Latino voters in Arizona, historically Democrats. Here's what that looks like

The Latinos for Trump office in Phoenix is adorned with values the Trump campaign hopes will attract this group of voters: faith, family, opportunity.




USATODAY.com - Published





Why Trump Is Winning Over Hispanics 

Florida senator Rick Scott has an advanced degree in winning Hispanic voters as a Republican. It has buoyed him in all his races, mostly recently his victory in his 2018 Senate race...




WorldNews - Published





'The American Dream:' Donald Trump court Latino voters in Las Vegas

Latinos represent a key voting demographic in battleground states suc as Arizona, Florida and Nevada.




USATODAY.com - Published





Leguizamo pushing to change perception of Latino community in U.S: 'We're virtually invisible'

John Leguizamo discusses his reasons for directing and starring in feel-good movie "Critical Thinking". (Sept. 11)  




USATODAY.com - Published





The racial justice movement is motivating young Latinos to vote, a poll finds.




NYTimes.com - Published





A majority of young Latinos support Biden over Trump, according to new survey

This year, a record 32 million Latinos across the country will be eligible to vote, making them the largest minority electorate in the 2020 election.




USATODAY.com - Published





Fight Breaks Out on Vegas Strip After Racism Allegation Sparked by Tattoo

An alleged racist who flashed a provocative tattoo to a group of Latino men paid for it dearly within seconds ... getting the beat-down of his life. Check out this brawl that went down in Vegas after a..




TMZ.com - Published





Bernie Sanders adviser Chuck Rocha on how to reach Latino voters

Latinos are set to be the largest minority voting group in this year's presidential election with more than 30 million eligible voters. Former Bernie Sanders adviser Chuck Rocha joined CBSN to discuss..




CBS News - Published





Trump's Republican convention portrays an America most Latinos don't recognize

The 2020 Republican National Convention has showcased a few Latinos for emotional impact, while skimming over issues that matter to our communities.




USATODAY.com - Published





Study finds juvenile justice system undercounts Latinos

A new study from UCLA's Latino Policy and Politics Initiative indicates the juvenile justice system either is not collecting data on Latinx youth or is failing to collect the data consistently. CBS..




CBS News - Published





Segregated parks linked to higher COVID-19 deaths for Black and Latino Americans

Experts have long called for Black and Latino neighborhoods to have better access to parks to improve community health. Coronavirus highlights that.




USATODAY.com - Published