Monty Python
British surreal comedy group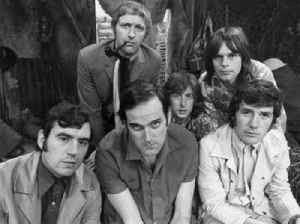 Monty Python were a British surreal comedy troupe who created the sketch comedy television show Monty Python's Flying Circus, which first aired on the BBC in 1969. Forty-five episodes were made over four series. The Python phenomenon developed from the television series into something larger in scope and impact, including touring stage shows, films, albums, books and musicals. The Pythons' influence on comedy has been compared to the Beatles' influence on music. Regarded as an enduring icon of 1970s pop culture, their sketch show has been referred to as being "an important moment in the evolution of television comedy".


You Might Like
Today in History for October 5th
Highlights of this day in history: First victim dies in post-Sept. 11th anthrax scare; VP candidates spar over JFK; The Beatles release 'Love Me Do'; 'Monty Python' premieres; Baseball's Barry Bonds..
USATODAY.com - Published
Monty Python announces reunion at press conference
The five surviving members of the British comedy group Monty Python announced their plans for a live reunion show in London, in July, 2014.
CBS News - Published
The BBC's appointment of another white man as director-general is an own-goal against diversity
There are many things we have to thank the BBC for: entertaining us with Killing Eve, Line of Duty, Monty Python, The Goon Show, The News Quiz and The Unbelievable Truth; broadening our horizons with..
WorldNews - Published
Comedian, writer and director found fame in Monty Python team
A swarthy, large-featured man, Terry Jones specialised in the show's cast of bizarre middle-aged women characters in Hilda Ogden-style dresses.
The Age - Published
Monty Python star Terry Jones dies aged 77
Terry Jones, one of the British Monty Python comedy team, has died at the age of 77 after a long battle with dementia, his family said on Wednesday.
Reuters - Published
Also reported by •France 24 •BBC News
Monty Python's Terry Jones: Master of the absurd
The life of the actor, writer and director who found fame as a member of the Monty Python team.
BBC News - Published
Brexit: 'Has Monty Python taken over?' - what the world press thinks
The world press sees Brexit making dramatic changes to Britain's tradition and reputation.
BBC News - Published
Looking on the bright side 'means you live longer'
Monty Python's advice may have been right as a US study finds that optimists live longer.
BBC News - Published